Kevin and I are always early birds when it comes to holiday decor. Since we were newly married last year, simple things became very special to us… moving in our first home, our first Holidays, painting our home, buying our first bedroom suite and the list goes on.
We actually got so excited about Christmas last year that we decorated the day after Halloween!!
(Yeah, we were just a bit wound up)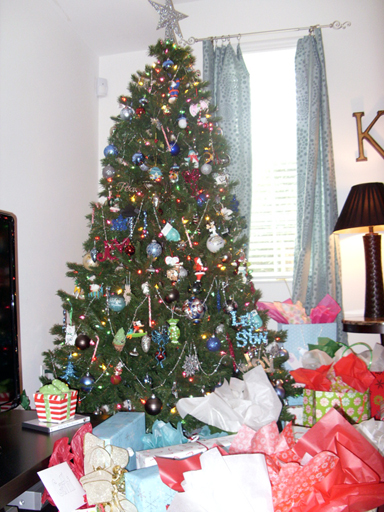 Last year we went with a pre-lit colored tree which was sprinkled with beautiful wedding ornaments, aqua, silver and red ornaments and our childhood ornaments we saved. It was cute, it was us! Since we are big fans of aqua, a theme emerged almost immediately when we were picking out our ornaments (which by the way we purchased before we even got engaged… it was meant to be).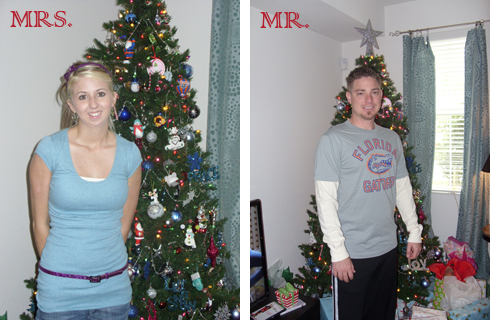 OK, so this year,we are not quite on that same path as far as schedules go, but we are definitely plotting our holiday decor options! We are thinking about a more cohesive look and maybe even more than one tree!! We enjoy all kinds of Christmas decorations, from the vintage all the way to the country Christmas look!
Our color scheme…
We picked up these Christmas canisters on sale last year and it matched perfectly with out stockings, tree skirt and other accessories. I love the feeling of being at home on Christmas and for some reason, this color scheme and these types of decor items just make us feel all warm and fuzzy inside!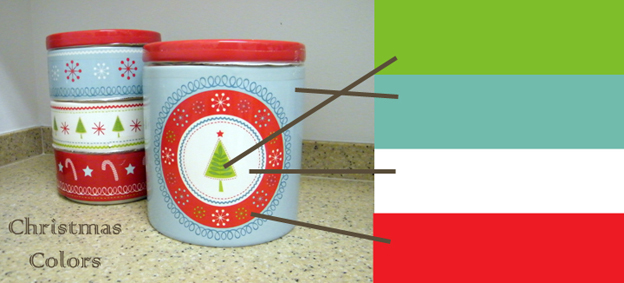 What about you? Do you prefer the white lit Christmas trees? And while we are on the subject, do you like a fresh Frasier fir or do you prefer the Christmas tree that keeps giving every year… you know the fake trees?
Do you have a theme? Maybe all silver and gold? Or are you more of a modern Christmas kind of family? Do Tell Us!
When do you plan on pulling out all of your Christmas Decor? Have you ever had a hard time trying to decide the best "tree location" in your home? Here are a few tips we came up with to help you…
– Select a room where people naturally gather
– Look for a place that doesn't obstruct traffic flow in the room
– The tree will be a focal point regardless of where you put it, but try positioning it in front of an existing focal area to make a more powerful design statement.
– Position it in a place that you can sit and enjoy the sparkles, twinkling lights and shiny ornaments!
We put ours in the corner of our living room that way we can enjoy it while we are hanging out playing games, enjoying friends and watching TV. It's a plus because we can also see it from our breakfast table and our neighbors can enjoy its lights from the window too! It's a win, win!
Are you ready to get into those storage bins and start the holiday decorating? Tell us all about it!
We have big plans for Christmas here at A Design Story, so stay tuned for some exciting posts!
Wanna get your name out there?