We have had a lot cooking in our kitchen lately, both food wise & décor wise! As most of you know, I am a clean freak and neither Kevin nor I like clutter!
The kitchen is the heart of the home, the place where families gather, friends chat and dessert is made delicious! It can also be a place where clutter just seems to form! This week we are wondering what sits on your counters?
Do you like all of your small appliances out, like your toaster, blender, etc? Or are you a less is more kind of person? Or, maybe your counters get cluttered with school work & bills… Do tell!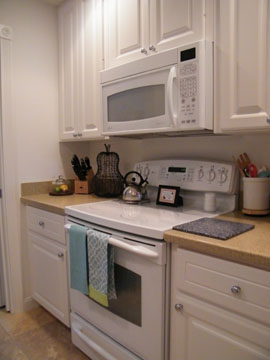 Here at the Milner abode, we keep most of our small appliances in our cabinets, we figure the real estate on our counters is more important than the items we use every once in a while! So, here is a rundown of the items on our counters…
Coffee Pot (because I use it twice daily)
Coffee Tree (see above)
Fruit Bowl
Knife Set
Spice Rack
Utensil & Holder Set
Napkin Holder
Paper Towel Holder
Dish with Hand Soap, Dish Soap & Microfiber Sponge
Apothecary Jar filled with Dishwasher Tablets
Canisters filled with Sugar, Coffee, Tea, & Gluten Free Flour
Teapot & Trivet
& last but not least… our decorative wire pear!
Alright, so what about you? And while we are on the subject, what are your secrets to keeping a clean & clutter-free kitchen? Do tell us!
Psst… We have a fabulous Gracious Giveaway scheduled for this Monday… you won't want to miss it!
Also, Check out our new Etsy Shop for handmade decor & more!