We came up with a kitchen plan and are full steam ahead! Actually, we have made major headway in here and just have some final additions that need to be completed. I thought it would be fun to show you a peek of the kitchen plan…
Let's look at a few before photos before we begin…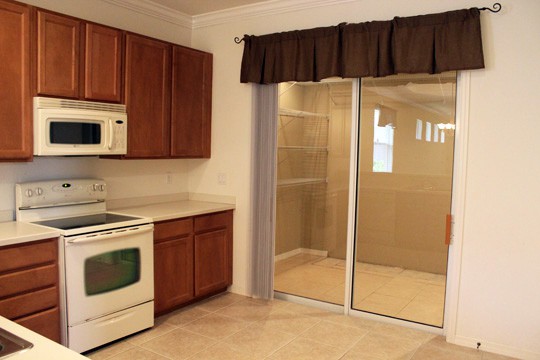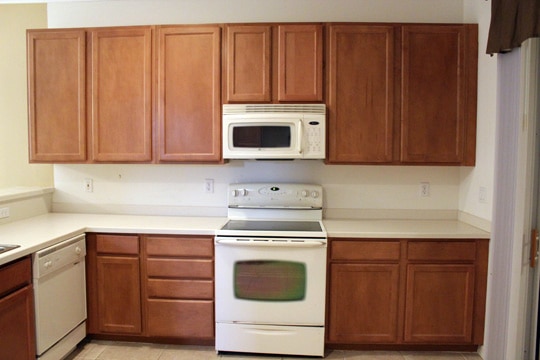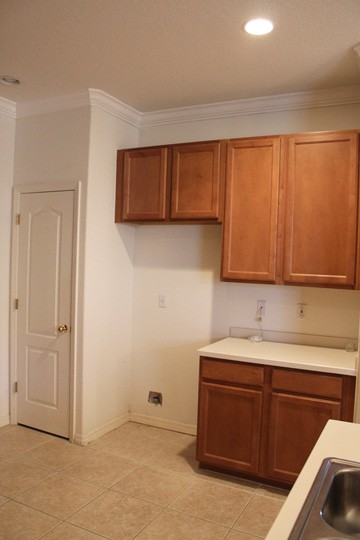 Technically, there was nothing really wrong with the before kitchen per say. It had corian countertops, bisque appliances and nice wooden cabinets. The problem was for us it felt to cookie cutter and bland for our taste. We spend a lot of time our in kitchen cooking, entertaining and it really is the heart of our home. We wanted it to look a bit more modern-beachy-industrial. We knew we didn't want to tear everything out and start all over again… so we came up with a budget and some ideas…
Here's a super fast virtual concept of the direction we headed in…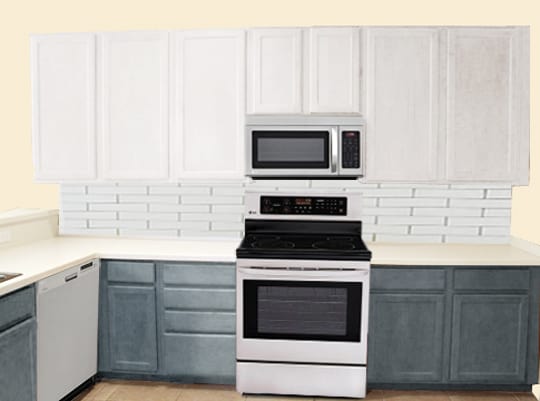 I put together  little inspiration mood board before we started the buying process to help us flow in the right direction… I always recommend you put together a mood board when re-designing a space. It's a great tool that helps narrow down selections and keep the design cohesive. I use photoshop for all my mood boards, but many of my own clients don't have software like that so I usually tell them to grab some magazines, scissors and tape or glue and make a little binder or poster board of items the love. It really is a great starting point tool for any project!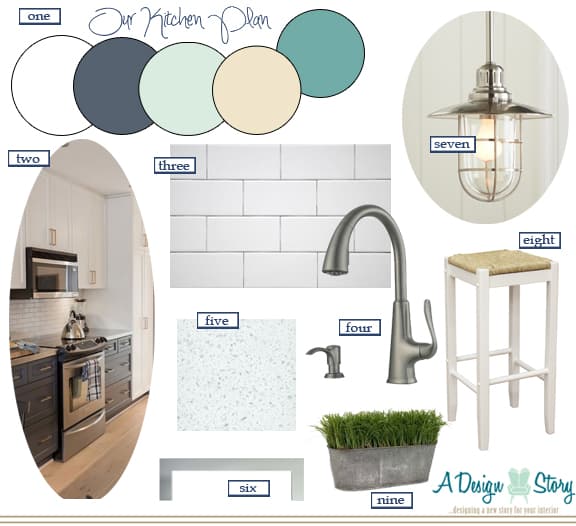 Here's our to-do list:
1/ Paint the walls… you can see the wall color for the main living area here. We did paint some of the kitchen Sea Salt by Sherwin Williams in addition to the Raffia Cream by Behr that runs along the main living area. As far as the cabinet colors go, we chose a two toned look…Uppers- White// Lowers- Benjamin Moore, Vermont Slate #1673. We will have accents of turquoise in the space as well.
2/ Paint the cabinets. We debated painting all the cabinets white because we are crisp kitchen type of people. The more we came by the house to 'look' before we closed on it, the more we realized it needed a little more spunk to the kitchen. We decided on painting the uppers white and the lowers a nice slate blue shade. This inspiration photo gives a good idea of what we are doing in our kitchen.
3/ Back splash: We had put in a white subway tile back splash in our last house about 4 months before we moved into the new house. For the short time we had it, we absolutely loved it. It gives us the crisp feeling we love, so we decided we would do the same thing in the new kitchen. Plus, with doing two tone cabinets, it will blend in a bit better.
4/In addition to stainless steel appliances (which will be given it's own blog post because they are that awesome), we opted to bring over our awesome Pfister Pasedena Faucet we were given in the last house. We love it! Check out our review here. Here's a link to the Slate finish we have. As far as the sick goes, we went with an under-mount stainless steel sink with double bowls.
5/ New Counter tops… We wanted something white & beachy. We ended up picking a quartz counter top that's white and has almost like capiz shell pieces in it. This will also be another blog post all it's own…
6/Hardware… I always feel like hardware finishes off a space. Our kitchen had nothing to start with so it was a real treat to add some bling to the cabinets. We chose to go with Stainless Steel very sleek hardware. It felt beachy/industrial to us and the price tag wasn't too bad either!
7/ Pendant Lighting: We selected the Fisherman Pendants from Pottery Barn to go above the bar area. It's very nautical and looks great with the rest of the nautical decor in our home. These puppies are heavy and really nice quality!
8/ As far as the bar goes, we purchased two of these stools (in a set) to start with. I love the white finish and the natural seat… these are quite close to the dining room thin buffet we have so the natural top look great next to the baskets in that piece. We plan on purchasing another set since our bar is so long!
9/ Decorating is the last piece to the puzzle. We plan on adding stainless steel decor like this one, a few decorative plates and then some beachy decor to the top of the cabinets to personalize the space a bit. I will show you the finished product when it's all complete!
So… what do you think? We are really excited about the kitchen and love everything so far. We have completed the painting of walls and cabinets, installed the back splash, added the hardware, the counter tops, sink and faucet have all been installed, the appliances are here and we are pretty far a long. All we have left is to install the pendants, install shoe molding around the lower cabinets, decorate a bit more and add trim to the bottom of the bar counter top. We are almost there… we can see the finish line!
How about you… any kitchen projects under way? Do tell…