Hi Y'all! I can't wait to show you the new dining hutch! I am sorry for the lack of posts this week. Time is flying by and I have been so busy! We will be back on the blog schedule this coming week! I have so much to share with you guys. In the meantime, it's the weekend and we have plenty of rounds to do… here's a sneak peak…
Remember back last March I showed you all an old beat up hutch that I was going to revamp to put in our dining room at our old house? Well… you can see it needed a lot of help…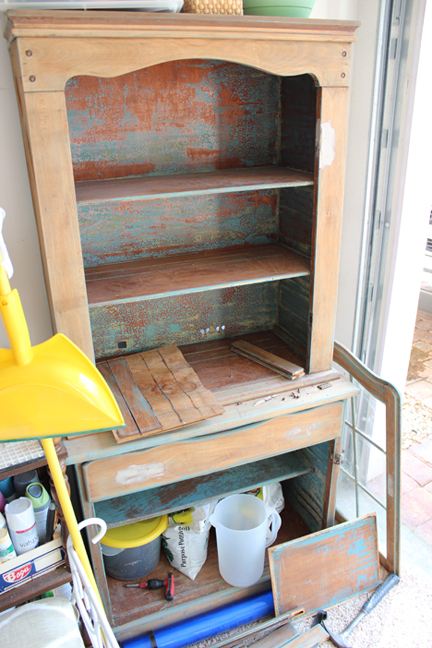 You can find the full post with details here. Well the update on this beauty beast is that it's not going in our new dining room. I absolutely love it, but we decided to turn this into something else for another purpose. I still can't sure exactly what that purpose is… let's just say it's for a new venture. I will be announcing that venture next week!
On my birthday in February, my hubby and mom and I went vintage shopping. We found tons of great stuff but one of the places we stopped was the Jealous Orchard in Venice. Since that day, the owner Lisa and I have become great friends. She sells her own line of chalk paint and is really pursuing that part of her business now. She is actually closing her store this weekend to focus on her paints. While I was there I took a picture of this hutch I absolutely fell in love with…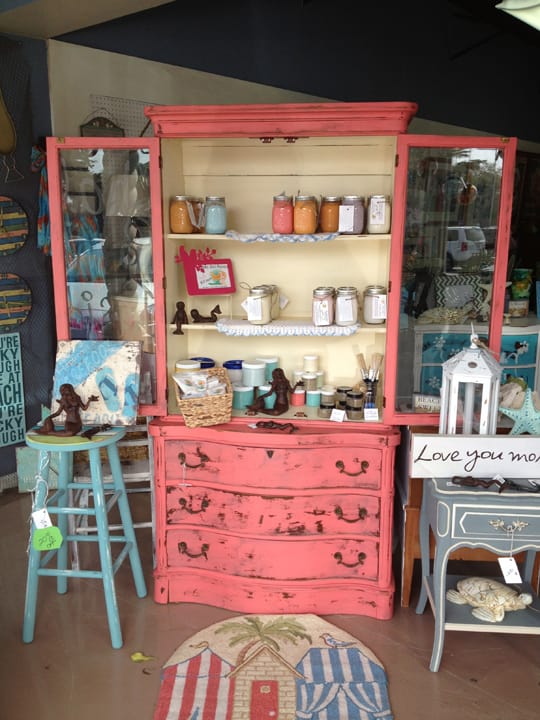 Isn't is just fab? Well, we decided to make a trade for it. I am going to teach her the ins and outs of blogging and pinterest. It was a fair trade! Kevin and I went yesterday to pick this beauty up and I just can't wait to spend the weekend filling it up! I am in the midst of spring cleaning a bit and adding this to the dining room came at a perfect time! I can't wait to show you guys the dining room progress! Stay tuned for that….
What are you guys up to this weekend? Do share…