Hi! It's Wednesday… already, can you believe it? Happy Leap Year (day)!!! It's been a pretty busy week over here! We are preparing to finally open up our e-shop, doing a few lil diy projects and picking out new paint colors for our bedroom. (What can I say, I love to change things). I've got TONS in the works that I just can't wait to tell you about! In the meantime…
I know I am late in saying this, but is anyone else L-O-V-I-N-G the explosion of the ikat pattern everywhere? Yeah, me too! I see it everywhere. In stores, on blogs, in homes & even on tv shows. (I am one of those tv watchers who shouts "look at the pillow… I love it" when Kevin is on the edge of his seat paying attention to what's really happening). I have used ikat a few times recently in home projects & in a client project. It's safe to say I adore it. It might even beat the chevron pattern. Maybe.
Ikat (pronounced like e-kot). Ikat is a dyeing technique/ process similar to that of tie-dye. It's an incredibly unique way of dyeing fabrics and one of the oldest forms of textile decoration. The exotic motif is making huge impressions of the design world. The patterns look fresher than ever before with the recent trend onset!
Over the last year, there has been an explosion of the ikat pattern everywhere, in the fashion industry, textiles & in home décor. I have always liked it, but now with the new color ways… I think I might love it. Do you? I spotted a bunch of 'spring inspired' ikat around the web & thought it might be fun to show ya my favorites…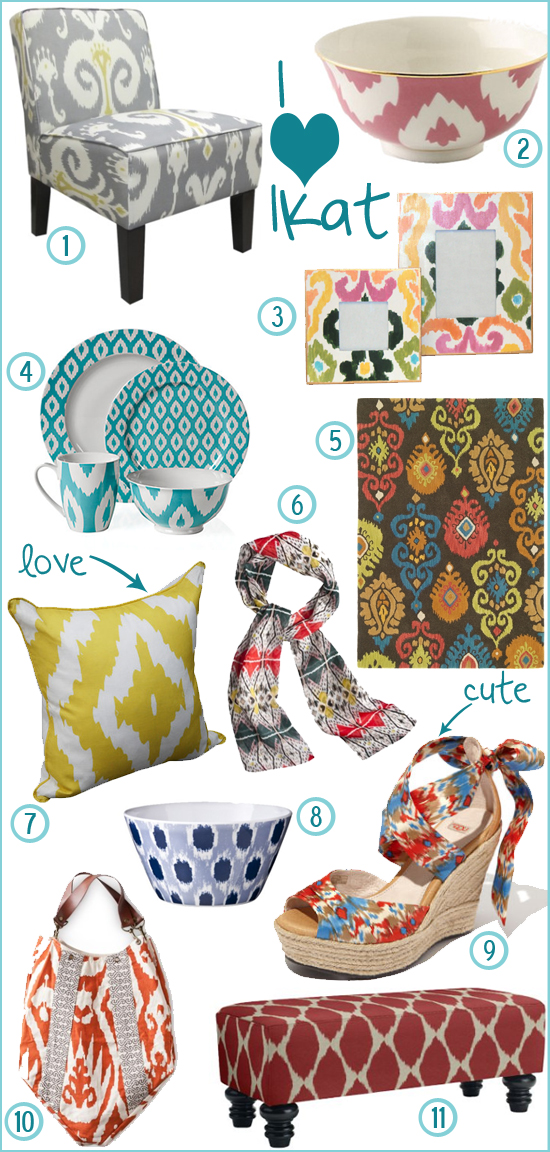 Here's the breakdown:
1. Slipper Chair by Target 2. Pink Bowl by Anthropologie 3. Picture Frames by Dana Gibson 4. Dish Set by Z Gallerie 5. Rug by Layla Grace 6. Scarf by Target 7. Pillow by AphroChic 8. Blue Bowl by Target 9. Wedge Shoe by Nordstrom's 10. Handbag by Layla Grace 11. Bench by West Elm
Have any favorites? I adore those shoes… cute for summer!! Do you just love these too? Any new trend you love? How about an old one, but a goody? DO TELL. In case you haven't noticed, we love to hear from you!
(P.S. We are excited about our nomination for Apartment Therapy's Homies 2012 awards… voting ends Friday… won't you vote?) Don't forget…. we are opening up our shop in the next few days… so get excited!