It has been no secret that we have been blogging since January~ so although we are Pro's in our fields (Interior Design & Real Estate), we still consider ourselves newbies in the blog world! Since the New Year, you have seen some DIY Projects, local project features, gotten some inside designer tips & tricks and been given the chance to win countless giveaways (speaking of which… we have one this week) & much more!!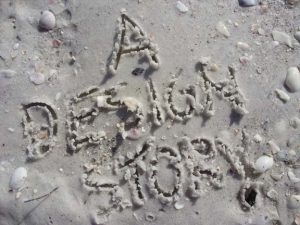 You have even been a virtual guest at our wedding and been given a tour inside our home! What you may have been wondering is, where am I writing all of this from?
Well, I blog in various ways and fashions! I blog from my desk, in our living room, on the beach (we live right near Siesta Key Beach) at our kitchen bar & even from our bed (only when I don't feel so good and can't sleep)! It really just depends, but you can't count on at least one blog 5 days a week right here on A Design Story! Kevin and I share an office so half of it is more "my style" and the other half is filled with Florida Gator Alumni Memorabilia. It works for now. It is the one room in our home that has gotten the "least" attention… that will be changing soon… so stay tuned for that! (Oh, and since we are in the process of selecting paint etc., I am going to make you wait to see the "befores")!
Usually I make a weekly schedule so I am organized, prepared and ready to post the best blog I can! My readers & followers are very important to me and I enjoy giving my design expertise to any and all of you! I really am dedicated to give you ideas, inspiration and design knowledge so you can design a new story for your interior! We also have new features such as delicious recipes, reader features (showcase your DIY projects… just email us @ lindsay@adesignstory.com) & more! A lot of time and dedication goes into A Design Story~ it's our passion and an adventure!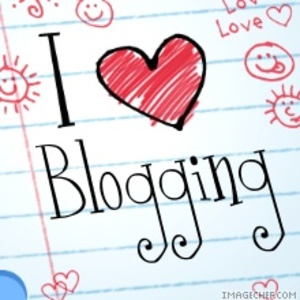 I blog best when I have a good cup of coffee & either a pen and paper (which is how the post was born), or my PC in front of me! After my post is complete, the Mr. almost always checks it over… love him! Speaking of the Mr., when he blogs (on occasion), he usually blogs right from his desk & computer! Oh, and one other little "inside" piece of info… I kinda can't function if my desk or space is cluttery and disorganized… everything has to be orderly for me to concentrate! Yes, I am a clean freak!
So, are you surprised or did you have "us" nailed? Do tell!
P.S. Don't miss the big Gracious Giveaway this week! Click here to enter!
Psst… Because you (our readers) are what make A Design Story our virtual home, we want to say thanks! Visit "Our Shoppe" and you can purchase ANY design package for 45% off! Just use the coupon code: Favorite! Oh, and if you are that in the mood to shop, we recently opened our own Etsy… check it out!
This Post was Created to join Centsational Girl's Party!