You could spend a small fortune decorating your home—but you certainly don't have to if you don't have it! The secret to top design? Mixing pricier pieces with items you can buy on a tight budget. The elaborate finds pull a room together while the less expensive ones add style and flair. If you're not sure when you should splurge and when you should save, no worries… we can help!
Here's a few inside designer tips for making the most of your home! Whether you are planning to use existing furniture or need to buy new, this post will help as a guide on what to spend or save.
New Sofa & Armchairs: Spend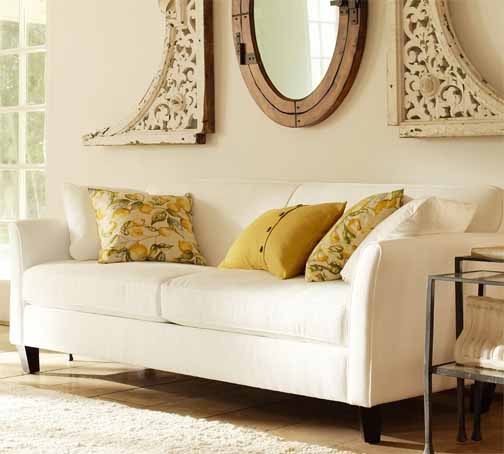 Aside from their beds, sofas and armchairs are probably where your family members spend most of their time, so sturdiness is a must. Plus, your living room will be the number one space for gatherings, parties and relaxation. Look for something with superior construction made with high-quality materials. Choose a neutral fabric that will stand the test of time and you can change up the look with throw pillows and blankets. Choose a neutral colored sofa will never go out of style and can dress up with seasonal decorative pillows (speaking of… sign up for this week's Gracious Giveaway), or play with textures by utilizing slipcovers. Apart from any style, this should not be an item to withhold on. (This one of from Pottery Barn)
Side Tables: Save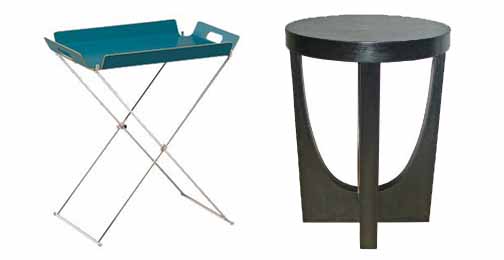 Small pieces of furniture don't see much wear and tear. Plus, you can find stylish side tables almost anywhere for extremely low prices. A table, like the above shown, would fit into most décor and would work well for an end table or night table. If you grow tired of it, add a few coats of high-gloss paint in a punchy hue to give it new life and a pop of color to your space. (Left CB2, Right Target)
Artwork: Save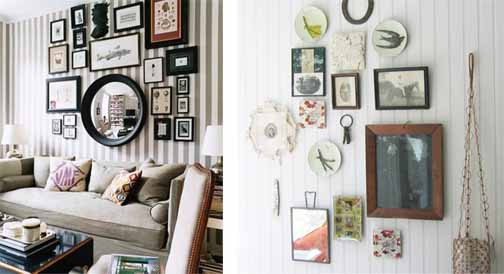 There is no need to shop art galleries- you probably already have one-of-a-kind artwork right in your home! We understand that it's your artwork that personalizes your space the most. Art can be quite expensive, even if you buy art online, the shipping, mats and framing can jack the price up. Pull together personal photos and create a gallery wall, you can get frames and other accessories really cheap by looking in thrift stores, Target, Ikea, T.J. Maxx, and Marshalls. Another great way to add pizzazz to your space if you are tired of bare walls, head over to the nearest home improvement store for some fresh paint. Accent walls can give a new lease of life to your walls! Wall decals and modern wallpaper have become so stylish and affordable, use them to highlight a space and create a real focal point. (Photo from The Designer Attic). Check out a previous post about hanging artwork if you need some quick tips & ideas!
Rug: Save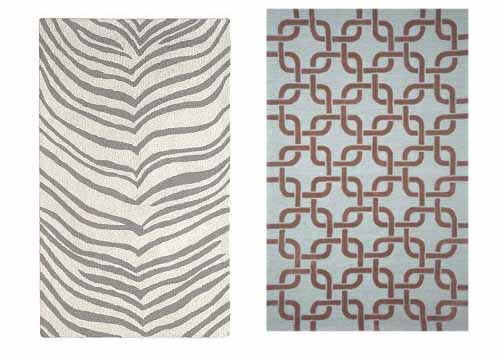 Since rugs are always underfoot, they're guaranteed to get worn down or spilled on sooner than later. If you spend a ton on a rug, you'll be stuck with it- regardless of uneven fading, stains and ragged edges. I am not saying by the cheapest rugs with plastic carpet fibers… that won't last either! I am saying, however, try visiting your local carpet store and have them make an area rug out of remnants, or visit retails stores that offer inexpensive low-pile area rugs (like Ikea, Target, West Elm, Pottery Barn, Macy's, Overstock, Dash and Albert, & Amazon). (Left West Elm, Right Macy's).
Curtains: Save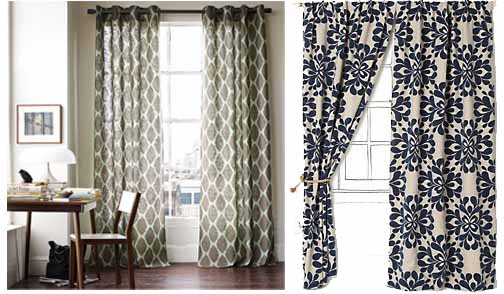 Simple, store-bought panels can be really attractive. As an interior designer, I do love handmade, custom drapery, but there are times when a client just can't go that route. No worries… You can buy graphic patterned panels or even solid one's and dress them up with decorative trim or a contrasting band of fabric along the bottom. Try looking at West Elm, Anthropologie, Bed Bath and Beyond, Target and Crate and Barrel for stylish, inexpensive panels. (Left West Elm, Right Anthropologie).
Kitchen Table/ Dining Table: Spend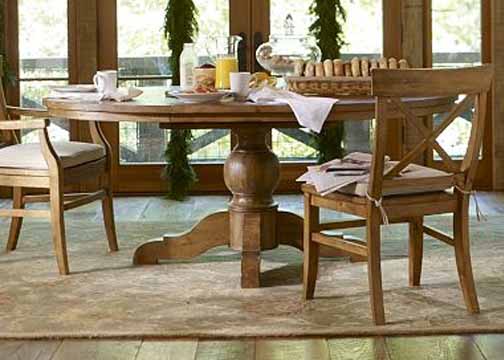 Just like your sofa, your dining room table is another important furniture piece in your home. If family meals are a priority in your home, your table will likely see a good deal of traffic over the years. Skip anything that looks like it won't be able to withstand a few scratches, bumps or bruises! If you invest in a higher- quality, well-crafted table, it will last decades & beyond! Also, pay attention to your needs and functions when buying a table… Do you need a small table with a leaf for extra guests? Maybe you need a large table with bench seating to maximize guest seating? (This one is from Pottery Barn).
Dinnerware: Save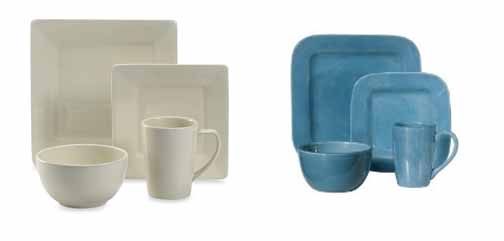 I suggest buying a set of everyday dishes with an inexpensive price tag, especially if you have china that you can pull out for those special occasions. Another great tip would be to select a style, pattern or color that can easily be integrated with a new set, since companies are discontinuing styles faster these days. All white, cream and tan sets are a craze right now because they are simple, timeless and can be dressed up with colorful napkins and tablecloths! Ikea, Target & Bed Bath and Beyond are great places to pick up a set of inexpensive dishes.
Also, keep in my durability when shopping for the right set of dinnerware. I know from experience! We registered for the most b-e-a-utiful set of aqua stoneware dishes (which my parents purchased for us), we love them, but they break easy… especially if you use them for everyday dishes like we do! So we plan on keeping them for casual get-togethers where it's too laid back for our china. We are looking for an inexpensive porcelain set for durability for everyday, all-day uses! (Left Bed Bath and Beyond, Right Target… What we have now).
Picture Frames: Save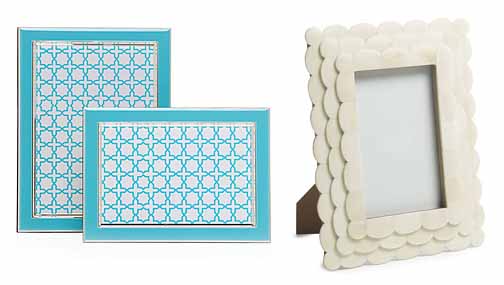 I love picture frames that can really personalize a space. Don't go super cheap with thin, brass frames or anything, but buying inexpensive frames is OK! I look at Target, Ikea, Marshalls, TJ Maxx and even Goodwill from time to time for good looking, beefy picture frames. I would say stick anywhere from $5 to $25 for picture frames… anymore than that and I believe your money is better spent elsewhere! (Left Z Gallerie, Right West Elm).
Bedding Collection: Save and Spend
Bedding can get a little complicated because you don't want to buy too expensive, but also don't want to purchase too cheap. Inexpensive bedding collections will have to constantly be replaced due to colors getting washed out and tatty fibers. Invest in quality cotton bedding (Egyptian cotton sets are becoming more affordable at places like Bed Bath and Beyond, Macy's & even Target). If you are on a strict budget for bedding, try purchasing a duvet, which can be less expensive than a comforter or quilt. Also, another trick for making your bedding last… add a blanket below your comforter to use while you sleep. Pulling down the comforter to the bottom of the bed will truly help your comforter last quite a bit longer. (Duvet from Crate and Barrel).
Also, remember your mattress is very important! It is absolutely worth buying a higher quality mattress for back support!
Children's Furniture: Save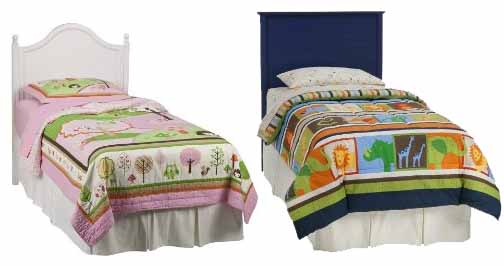 Your children's rooms are a place to have some good fun in, you don't want your little ones to be tense about a spill or an accident, so don't spend a lot of money on their furnishings! Look for inexpensive pieces like gently used pieces from Craigslist, Goodwill or even new from Target, Ikea or sales at Pottery Barn Kids. Paint used pieces a bright color and swap in fun knobs on the cheap.
The joys of interior design don't always have to be about designer pieces with the most expensive price tags (yes, that's coming from an interior designer). Don't get me wrong, I design for clients who have high standards… and I love that! But the bottom line is your typical, average person can't always buy the biggest and best! It's ok to have high style standards on a shoestring budget… because these days a great look is achievable for less! (Left Target, Right Target which my family just recently purchased at my local Target.. I got two headboards and the toy box for $150 for my nephews).
What do you think? Have you splurged on anything lately that cost you in the long run? What are the items in your home that you spent on and the items you saved on? Do Tell!
Are you in need of a little help for your design dilemma? No Problem! We can help! We are running a special for the month of October on all Online Design Packages… check them out!
P.S. Today is the last day to sign up for this week's Gracious Giveaway!