Hi Yall! It's been awhile… wow it really has. Kevin and I moved into our new house and have both been under-the-weather, so the blog has kind of fallen to the back burner. Sad but true. But hey, do you like the new layout and design? I love it!! I will have a full post on how the design came about and what the new features are on Monday! I will also have TONS of new house posts coming your way. This house has come a long way and still has a ways to go… but we are thrilled and excited to finally be in it!
There are so many house happenings & updates to share…. but in the meantime, enjoy a fun fall fresh picks post!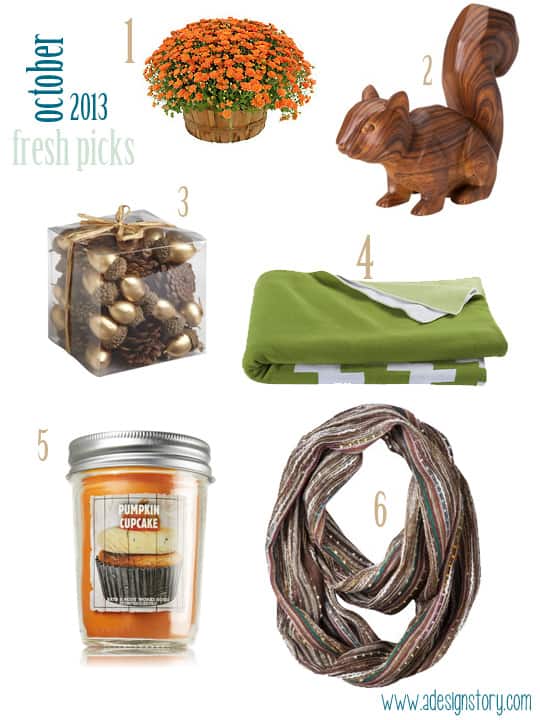 Here are the details…
1/ It's almost a must to have a mum on your porch during the fall. I haven't picked out mine… I am actually doing that today because I have a fun little project to show you!
2/ I am not always the biggest fan of squirrels… maybe one day I will share why… but I do think this small wooden squirrel would be adorable on a harvest tablescape.
3/ An easy way to bring a little fall into your home is to throw some acorn filler into a vase and finish it off with a led candle or real candle. If you are using a real candle, take an old can good and place it upside in the vase and pour the filler in around it so the candle has something flat and even to sit on. Plus, the filler will fill up the vase nicely that way. Just a quick tip!
4/ We are throw blanket kind of people… we always have them on our sofa (even during the summer). I love adding heavier or darker throws to the sofa and beds during this time of year. This green chevron blanket would look great paired with tans, browns or even black decor.
5/ Who doesn't love the scent of fall? One of my favorite things to do during the fall is to light a nice pumpkin candle… especially since Sarasota, Florida doesn't always feel like autumn during this time of year. (Sad but true). This Pumpkin Cupcake candle smells delicious and I think the mason jar look is cute too!
6/ I am a sucker for an infinity scarf these days. I pair them with t shirts or tank tops and jeans (or shorts in my case).
So, what about you all… what finds have you fallen for fall? Share, please do!
More this week on the blog… Weekend Rounds.