Budget Decorating for the Newlywed or for the Newly Renting or Owning!
I was talking to my cousin, Kara, awhile back about home decorating as a newlywed since she is getting married  this coming December. She had tons of questions about registering and selecting things and making them flow throughout the entire space. More on that question later. But I put together a few steps that might help anyone on their quest to get a great looking space for less!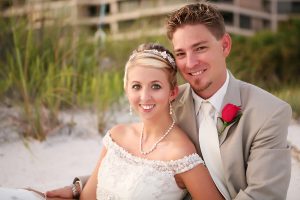 Step 1: Getting Started… determine your budget
Right up Kevin's alley. He is our budget man…
Step 2: Take note! Take inventory of your home to determine where to allocate the money from your budget.
Since Kevin and I didn't live together until after we got hitched, we both had a few things that come with us into our new life! I went through an entire list and determined what we needed and what we didn't. Plus, we received gifts from my bridal showers and from the wedding, which really helped weed out things we needed to buy.
Step 3: Clean, clean, clean! Purge your unwanted items and make room for this new part of your life.
We went through our homes and sold some items on Craigslist as well as the massive garage sale we had. It really helped to get rid of some things we no longer needed and also put extra cash in our pockets for new items.
Step 4: Paint your home pretty! One of the most affordable and dramatic ways to change the look of your home is with paint.
We have done a great deal with just paint! Just check it out here. We are also going to reveal our master bedroom soon!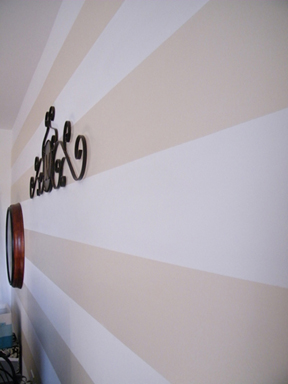 Step 5: Take on DIY Projects! Depending on your skill level you can make everything from throw pillows to a dining table. Play on each other's strengths to get the job done!
I have been to Goodwill and garage sales and bought things I could revamp. Check out some of those finds here.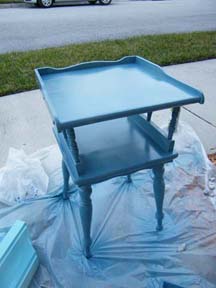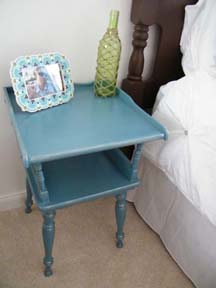 Step 6: Accessorize Wisely! Just because you can't afford new furniture at this time doesn't mean you can't make it look new with accessories. Investing in smaller items that pack a punch can make your old things look new.
 I bought new pillows for our sofa, new bedding & pillows for the guest bed and I even painted some of Kevin's accessories to match our new color palette.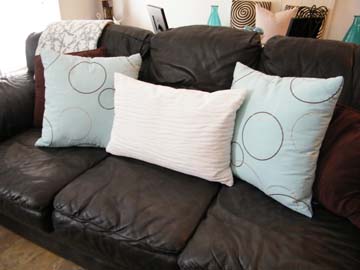 Step 7: Make the most of what you have. Shopping for something new isn't always the answer, especially if you are running low. Look around and see if you can repurpose things you already have.
I have repurposed countless things in our home. Like I mentioned, Kevin and I kept some things from Kevin's house that just needed a little TLC. I repainted the guest room headboard, some accessories and even some wall décor. You can see the posts here.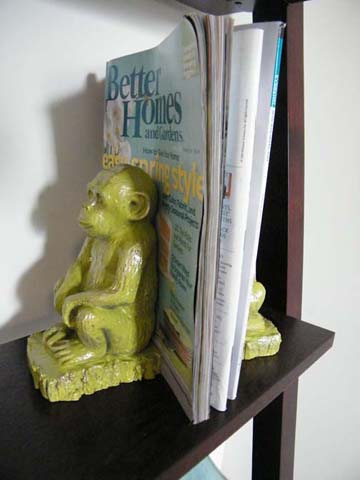 Step 8: Rearrange the furniture! Create intimate conversation zones. Keep moving things around until you are satisfied.
Kevin laughs at me because I am always rearranging our accessories… the furniture has stayed put… the accessories… keep moving! Here today, somewhere else tomorrow!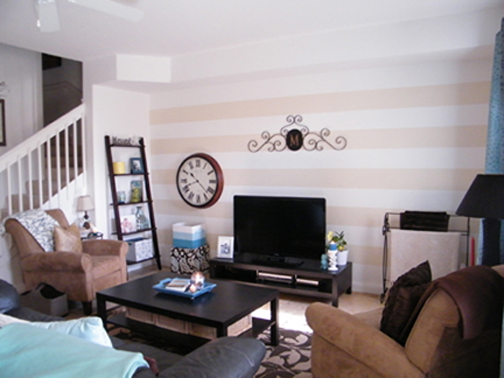 We plan on having a room by room source list soon!! On budget décor, what have things have you done to spice up your space? Do tell.
Don't forget to ask you design or real estate questions here… we will answer them on Webisode Wednesday!
Like what you read? Subscribe here.