Happy November… Can you believe it… I think we have the countdown to 50 days until Christmas. What?!?! Time is always flying by. It's time for another fresh picks post!
We have had a lot going on with the move, my sweet papa leaving to meet Jesus and client projects. It's been a crazy fall. We have a ton to do before the holiday season really begins and we are looking forward to sharing our home project progress with you all. It's coming along and it really does look beautiful! In the meantime, let's get to the monthly favorites…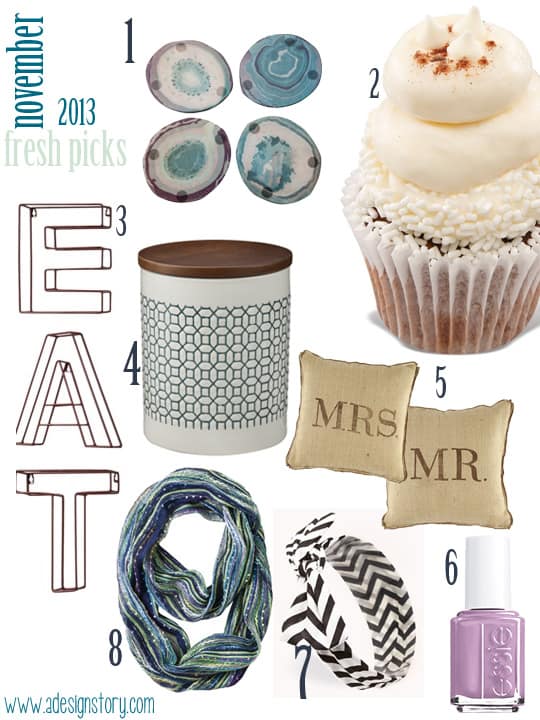 Here's the breakdown…
1 Agate, it's a big trend right now. I like it in small doses so when these agate coasters went on clearance at my local Tarjay, I snatched them right up for our living room coffee table. They really are an art piece in a way. Are you guys into the agate trend?
2 A Gigi's cupcakes just opened recently and it's only about 5 minutes away from our house. This may be a good thing and a bad thing all at once. They have gluten free cupcakes everyday! I absolutely love the one that's vanilla and chocolate butter-cream icing… but this time of year the white chocolate pumpkin cupcake is so divine. I believe Gigi's is a franchise, so look them up in your hometown!
3 In our last home, I created an adorable pantry that featured letters E-A-T. That trend caught on in a big way and now I am thinking about adding it to our new kitchen (which is almost done— and it is stunning). I thought about using pallet wood and creating the letters with that…. I am also debating on using these wire frame letters from Target. Do you have a preference?
4 I have glass canisters for sugar and k-cups, but I really like this new geometric canister to use for spatula's, and baking utensils near the stove. Right now we have a plain white one and I feel like this would add some interest to the counter top! It' on my wishlist…
5 I love the Mr. & Mrs. pillows I am seeing everywhere. I actually purchased a lumbar pillow from TJMaxx that is burlap and has silver running through the stitches… the Mr. & Mrs. is in white. It's adorable. The pillow now lives on our bed in our new bedroom! It's so pretty! I did find this set from Ballard that's very similar!
6 I usually go dark for nail polish during the fall, but this year I really like this new Essie color called Warm and Toasty Turtleneck. It's between a pink and a purple. It's really pretty!
7 I love accessories. Home decor, fashion and beauty accessories = pure bliss. I am really into pretty head-wraps these days. I love this chevron one from Forever21. I think it would look adorable with jeans and a black blazer or a black maxi dress.
8 It's no secret that I love infinity scarfs. I wear them at least twice a week these days. I have tons! I love them. This scarf has pretty colors running through the weave and would look awesome with dark skinny jeans and a fun t-shirt with toms or ballet styled shoes. What do you think?
So, what about you guys? Any new home decor or fashion items you are into these days? Share… Oh and why you are it, come back in just a bit for a fun World Market giveaway!! See you soon!