We have been gearing up preparing for some warmer (more autumn-ish) meals around the Milner abode! Hoping the weather will soon follow suite and become a little chilly (it is supposed to feel like 100 degrees as I write this), there's nothing better than comfort food in the fall and winter! 
So, this week on the menu… Homemade Cheese Garlic Biscuits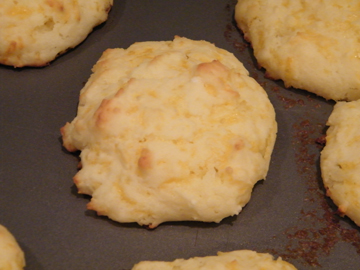 Ingredients 
2  cups Bisquick Gluten Free mix (You can use regular if you are ok with gluten)
1/4  teaspoon garlic powder
1/4  cup firm butter or margarine
2/3  cup milk
1/2  cup shredded Cheddar cheese (2 oz)
3  eggs
Garlic-Butter Topping
1/4  cup butter or margarine, melted
1/4  teaspoon garlic powder
Heat oven to 425°F. In medium bowl, combine Bisquick mix and 1/4 teaspoon garlic powder. Cut in 1/4 cup butter, using pastry blender or fork, until mixture looks like coarse crumbs. Stir in milk, cheese and eggs until soft dough forms.
Drop dough by 10 spoonfuls onto ungreased cookie sheet.
Bake 8 to 10 minutes or until light golden brown. Mix 1/4 cup melted butter and 1/4 teaspoon garlic powder; brush on warm biscuits before removing from cookie sheet. Serve warm.
Thanks to Bisquick for the new Gluten Free Mix, I can now make all kinds of yummy and delicious dinners, desserts and more! This recipe came directly from Bisquick and can be found here.
P.S. We ae having a huge fall wreath link up party this coming tuesday… click here for details. Don't forget to check out our etsy for a few fall decor items… get them quickly!