Happy Friday… and boy is it happy! Today I am drifting a bit from our new blog schedule and holding a FABULOUS giveaway… seriously like jump up and down excited as heck fabulous! My FAVORITE STORE in the entire world is sponsoring a HUGE giveaway today!
*** This Giveaway is Closed***
A few weeks ago I opened up my email inbox and to my surprise; I received an email with a sneak peak of Target's Spring/Summer 2012 Look Books. Of course, I immediately fell in love with so many things; I just had to blog about them (here). Since I am in Target so much, I kind of have an "in" when it comes to new things (or at least I like to think so)! My entire Target (I did say "my"… the one closest to me is my favorite and walking in just feels like home) is being remodeled right now… making room for a Starbucks, a produce section and another really big surprise!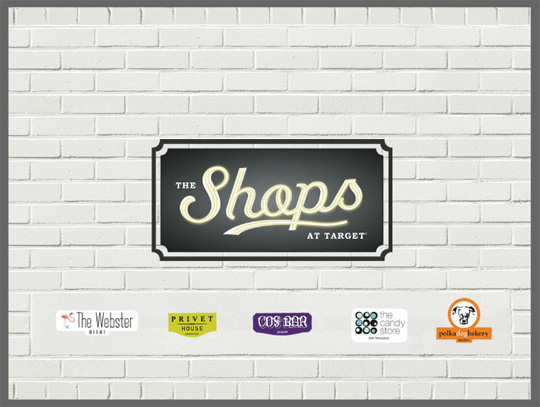 May 6th, Target is launching an exciting new adventure called the Shops at Target, the latest twist on its designer partnership model (you can read every detail on the press release). Through this idea, Target partners with shop owners of specialty stores across the country to co-create affordable, limited-edition collections for you and me! After seeing the look book, I just know you all will be as excited as I am about this new on-going venture!
[youtube]http://www.youtube.com/watch?v=MZ34plvb8tU&feature=youtu.be[/youtube]
The products in the home collection, Privet House at Target, are co-created by Privet House (Warren, CT) owners Richard Lambertson and Suzanne Cassano, and Target and includes décor, accents and accessories for the home, kitchen, table and garden reminiscent of the Connecticut shop's signature charm. The prices range from $1.99- $159.99. Here are some of my favorites…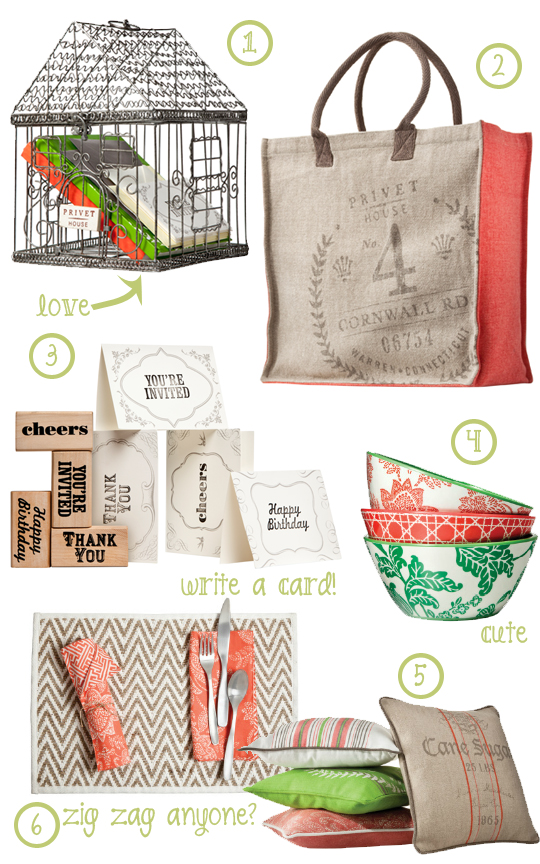 So, here's the thing that had me jumping up and down… Target was so impressed by my mention on Tuesday about their Spring/Summer collection and they wanted to offer ME the opportunity to offer YOU the chance to win a small sampling of the Privet House at Target collection before it hits stores on May 6th! So… that mean's the winners get the chance to get their hands on the limited-time collection before ANYONE ELSE. Woo hoo… I am so pumped for you!
Let's get this giveaway going, shall we?!! (It's easy to enter… just comment below).
Prize: A sampling of the Privet House at Target Collection which includes:
Privet House at Target Stationery and Rubber Stamp Set – $12.99 (shown as number 3 above)
Privet House at Target Apothecary Jar Scented Candle (Warren Woods with Balsam Pine & Citrus) – $15.99
Privet House at Target Canvas Tote Bag in Coral – $19.99  (shown as number 2 above)
Privet House at Target Wire House – $24.99  (shown as number 1 above)
To Enter: Comment below saying "Privy to Privet House" & TELL us what your favorite thing is about Target! Is it the constant flow of new things, their 5% saving with the Red Card? Maybe it's their dynamite customer service?
Bonus Entries… Like our Facebook (& tell your friends about the giveaway) or Follow us on Twitter and tweet… "Enter for a chance to win a sampling of Privet House from Target before the pieces hit stores on May 6th on @adesignstory https://adesignstory.com/giveaway-privy-to-target-privet-house/"
Giveaway Closes: Thursday, April 19th, 2012 @12pm EST
Number of Winners: 5 Lucky Winners
Prize Ships: Anywhere in the continental U.S.
 (Disclosure: All images are property of Target. I was not paid or perked by Target to hold this giveaway… I genuinely L-O-V to the E, love Target and I thought you all would love the new Privet House collection too… enjoy).