Today's look in window treatments ranges from a simple length of fabric arranged over a rod to elaborate draperies reminiscent of those in historic mansions. Whatever the style, the basic approach to design is the same. And as a professional designer, I've learned the tricks for creating treatments that are appropriate, beautiful, well constructed, and suited to my clients' needs—whether they're traditional draperies or unique window treatments that incorporate a "couture" look. But for now, let's take a look at some design fundamentals to get you started selecting effective window treatments for any room.
Have't seen the first post? Click here.
Window treatments are key design elements for many reasons, including
Establishing a style or theme
Providing decorative elements
Meeting Practical Requirements
Coordinating color and contributing in a major way to the color scheme
Lending pattern & texture at the window where nuances are subtle and drama is implicit
 Window treatments enhance all the other furnishings in an interior and are as impacted by major home furnishings trends as any other furnishing component. It is really important to integrate window fashions within the prevailing style already specified within the room.  Today, there is a greater need for flexibility in design with rooms being used for many activities.
 So, let's take a walk through a home, room, to see what the requirements are, keeping in mind that window fashions can always be beautiful, functional and meet the needs of today's lifestyles.
 Product Application Room by Room:
 The Entryway:
Window surrounding the front door- sidelights, fanlights, transoms or second story windows- are important to let light in (rarely use room darkening treatments)
Use simple & functional treatments
Or go for a completely open look to be slightly more welcoming (see below)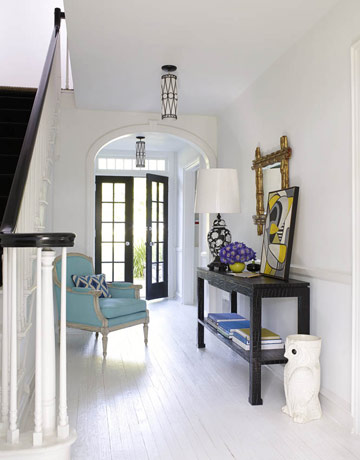 The Living Room & Dining Room:
Windows in these areas often play a dual role in the interior design plan… both are functional & beautiful
Windows admit view, light & sometimes ventilation. They are often beautiful architectural shapes & may be surrounded by interesting woodwork trim.
These windows are ideally suited for tied-back or straight side panel draperies, top treatments (such as cornices), valences & decorative hardware
These are rooms where you should be creative and inventive
You have more freedom of design in these rooms because you should meet your window coverage requirements with alternative treatments underneath (blinds, shutters, pleated shades & privacy sheers)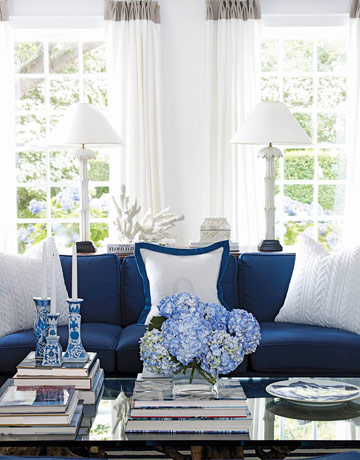 The Kitchen & Great Room:
Typically, most kitchens have only one window- over the kitchen sink. The ideal treatment would be a valance because it is out of the way of soap & food spots. Plus, you don't necessarily need a ton of privacy in this area. (If you do opt for a mini blind, make sure you raise it up during kitchen projects).
In kitchens that include a dining nook & connected great room, you should coordinate your window treatments for a more unified look.
If you do have French or Sliding Glass Doors, side panels are a classic look. Make sure the drapery stacks are off the door area on both sides, or is placed only on one side away from the door opening.
Plantation shutters are also great options for a breakfast nook where dining tends to be less formal.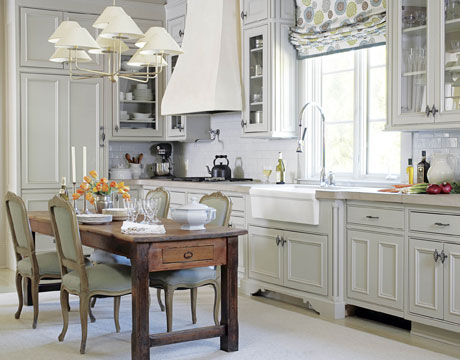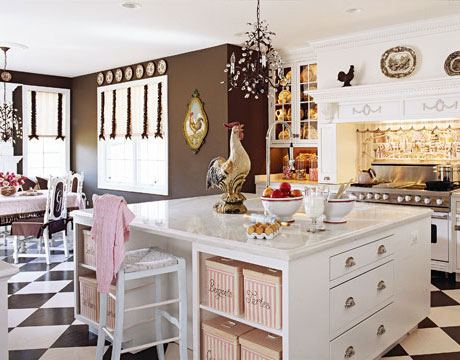 The Family Room:
A family room by itself without a great room does not have the coordination needs listed above, except for the operational needs such as the panel stacks etc.
Family room functions vary from busy centers of activity to quiet, relaxing spaces. The windows should reflect the level of activity and the level of formality, as well as the need for privacy and light control.
Side drapery panels with decorative hardware are useful and aesthetically- pleasing window treatments
Select the treatment in these rooms for their practical and functional properties as well as their appearance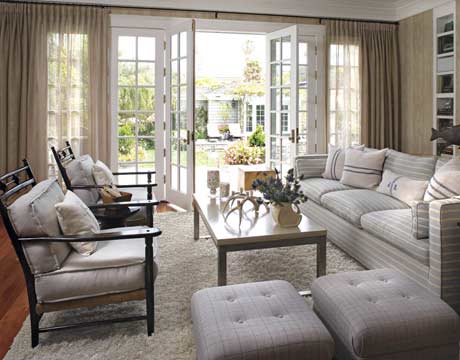 The Master Bedroom Suite:
The master suite today is much more than a bedroom. This is an area where window treatments should receive special attention and often will echo the type of selections made for living and dining rooms- elegant and layered, if that direction fits the design plan.
The ability to darken a room for daytime sleeping / resting or television watching is important. This areas need to be complemented with daytime light-softening, glare-reducing and privacy treatments as well as nighttime privacy treatments.
Window shadings such as Silhouette or Vignette window shadings, or Luminette Privacy Sheers are good options as they provide light control while adding a feeling of softness to the room.
 Other popular choices include pleated or cellular shades, wood or plastic blinds, and vertical blinds either alone, for a spare, sleek pared-down treatment, or under fabric treatments.
Shutters as described under "living and dining rooms" are also excellent choices for master suites and may be topped with valances and/ or draperies.
Master suites may also include luxury bathrooms, often with large windows. The need for privacy is imperative and can be achieved with shutters, blinds or Silhouette window shadings with a valance over for decorative appeal.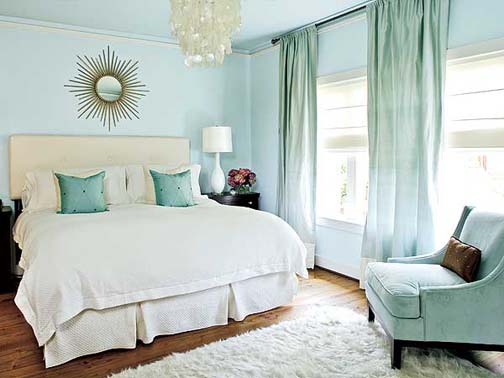 Children's Bedrooms:
These rooms need to be treated with window coverings that are practical and safe.
Blinds are popular because they are sturdy, youthful in appearance and easy to manipulate.  * Make sure you have the tassels safely secured.
Creative valances and drapery panels are almost always appropriate for children- whether they be whimsical or sweet, thoroughly masculine or theme- inspired this is an area where you can have some fun! (Also, bright white and fresh is really pretty)!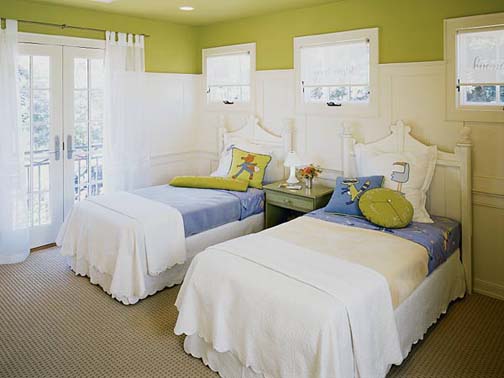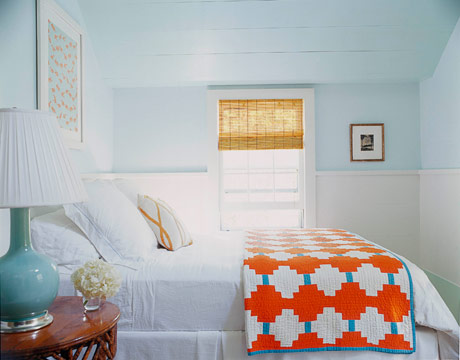 Guest Bedrooms:
Guest bedrooms are another area to indulge with beautiful window treatments.
Start with an alternative treatment (blinds, shutters etc) and carry out the theme of the room with side panels  and/ or valances, exotic drapery rods and accessories.
Since a guest rooms typically receives less use than other areas, the window treatments can be more creative and daring.
Keep in mind the need for privacy, both day and night, and room darkening for daytime rest or sleep.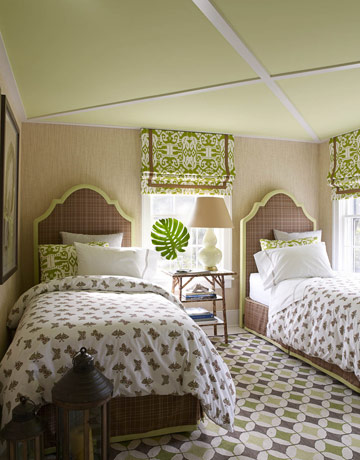 The Home Office:
Light and glare control is imperative for computer work
There is also a need to protect valuable furnishings and equipment from heat and ultraviolet rays
Both daytime and nighttime privacy is crucial, since many home offices may be occupied at any time.
Start with alternative treatments here too (blinds, shutters etc) and incorporate fabric treatments to add character, charm and richness. (For a simple look- just go with alternative treatments & leave it at that!)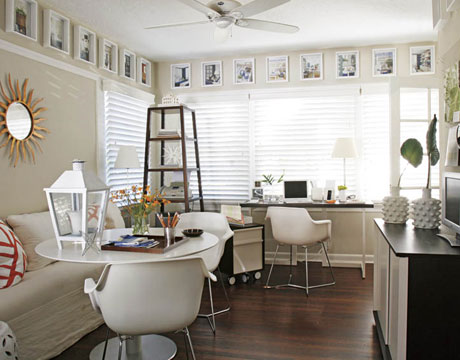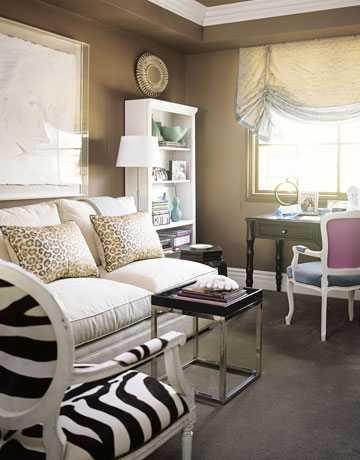 For rooms such as bonus rooms, exercise rooms or play rooms… use alternative treatments along with fabric panels for decorative appeal.
So, want to know more about selecting the right style and aesthetic & practical considerations? Well, stay tuned for another Window Treatment tutorial next week. (We will have fantastic suggestions for all kind of window types to ease your decision making!)
So, do you need some help pulling your room together? Well, we are here to help! Email us questions you may have and we will be sure to answer each and every one of them! If you are looking to re-design your space, visit Our Shoppe. But wait there's more, starting today (Friday, April 02, 2010) until Monday (April 5, 2010) we are offering a coupon with 30% off every package in honor of Easter. So, remember the code word: Easter (pretty impressive, right?).
Images couresty of House Beautiful & My Home Ideas.