We are back at it again with another Dorm Room Design for all you who are going to college or know someone who is! It can be quite overwhelming deciding on classes as well as all the "necessities" you need for the dorm room! No worries, we whipped up another gorgeous girly dorm design for you!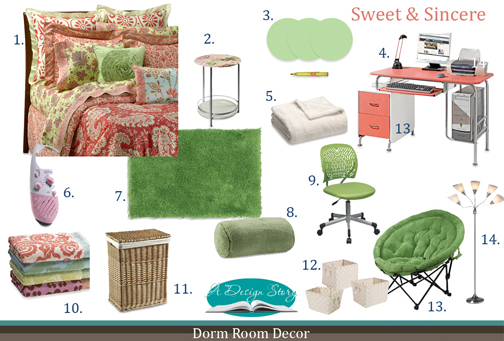 Here's the Breakdown:
1. Bedding
2. Side Table
4. Desk
5. Blanket
6. Shower Radio
7. Rug
8. Pillow
9. Desk Chair
10. Towels
11. Laundry Hamper
12. Storage Boxes
13. Chair
14. Floor Lamp
Fantastic right? This design is girly & sweet! It is sure to make any girl feel right at home! Need a boy's design? Missed yesterday's post? Click here!
Plus, have you entered in the giveaway this week? Well, click here! F.Y.I- We are have a SALE! 40% Off ALL DESIGN PACKAGES with the code: SUMMER. Oh, and we are offering some great deals on advertising… click here.
Design Board Courtesy of A Design Story, LLC.