Starting College? Well, Kevin and I both know what it is like to pack your things up and head to a small dorm room! Going to college is exciting, fun and can be stressful! Making your dorm room feel like home can be challenging in the small space that you may have to work with. 
This week we are going to show you several ( 2 girls, 2 boys) dorm room designs that look great and go easy on the wallet! Basically it's like a one stop shop right here on A Design Story! So, without further ado…. Today's Designed Story: Flowered & Flirty Dorm Room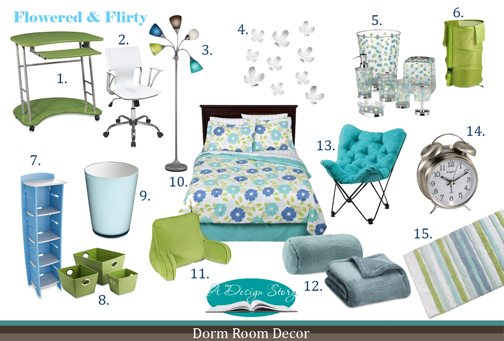 Here's the Breakdown:
1. Desk
3. Floor Lamp
4. Wall Flowers
5. Bathroom Set
7. Bookshelf
9. Trash Can
10. Bedding
13. Butterfly Chair
14. Alarm Clock
15. Rug
So, what do you think? This Dorm Room Design is flirty and fun! Stay tuned this week for more Dorm Room Designs!! Have questions, do tell!
Don't forget… we are having a fabulous Gracious Giveaway this week, click here to enter. Also, we are having a HUGE SALE on all design packages… a whopping 40% off, use the code: Summer.