A Taste Of India… Lovely Linens
Today we have gone handmade in terms of this week's Gracious Giveaway! That's right, this week's sponsor, Saffron Marigold creates luxury Indian linens, and they make each tablecloth, bedspread, curtain and pillow cover very meticulously (both to safeguard traditional techniques and deliver a high quality finished product). The products are truly hand printed one magnificent inch at a time.
***This giveaway is complete & no longer accepting entries***

One of the values I love about Saffron Marigold is the fact that they are fully committed to the arts and crafts movement and revival in order to safeguard fair trade and traditional crafts.
And this week one of you are going to have a chance to enjoy one of these two slowly and beautifully made linens in your home…  Yep, that's right the winner will get their choice of a lovely (18X90) Table Runner or 2 (17×17) Cushion Covers!  
Here are a just a few of their fabulous cushion covers… They are really lovely!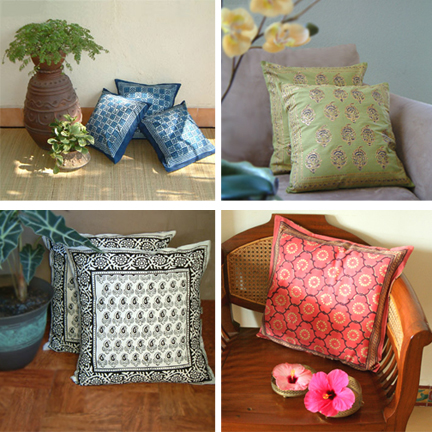 These are just a sample of the beautiful table runners they have…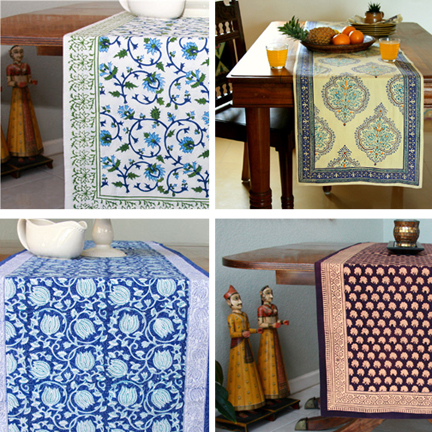 … and the best part is you can pick from any of their fantastic prints!!
And while you're over on their site browsing their dramatic designs, be sure to check out the photo slideshow of their time-intensive process which details how they create all the incredibly involved patterns. It will truly give you admiration for the craftsmanship that went into these prizes.You can also click here for more information on the various styles of printing!
These are truly some of the most lovely and beautiful handmade linens I have ever seen!! Simply Stunning!
So here's how you can enter for your chance to make sure you get to take on these lovely linens home…
Prize:  1 Free Item: Choice of 1 (18×90) Table Runner or 2 (17×17) Cushion Covers
To Enter: Comment "Inspired, Inspired" and tell us… one place that you have visited that truly inspires you in your décor…
Bonus Entry… Sign up for Saffron's Newsletter…. Just click here (it is at the top of their website). Don't forget to tell us you did on your comment!
Giveaway Closes: Thursday, August 5th at 8pm EST
Number of Winners: One lucky winner will score one of these lovely linens.
Prize Ships: All over the U.S.
Rules: One entry per e-mail address is permitted, unless you partake in the Bonus Entry. The winner will be selected using random.org and announced on Friday, August 6th. Good luck!
ALL IMAGES COURTESY OF SAFFRON MARIGOLD.
P.S. Want the 411 on when these fantastic Gracious Giveaway's are happening? Subscribe here. Or just come by and "Like" Us on Facebook!
Well here is just a few of the blogs you can look forward to reading in the comings days:
– A fun matching kitchen update
– Some DIY projects
– A few Designed Stories (we are going to show you a few readers designed stories)
– August "Fresh Picks" (want to see the other months? click here)
– Some wonderful Gracious Giveaways… don't miss them!
– & Much, Much More!
Want some information on sales on A Design Story? Click here.