I love emails, questions and comments regarding posts and all things design. Remember back when I posted the series on Window Treatments? No, well just click here, here, here & here). Well, one of my fabulous readers, Yulia, commented with this:
 I'm glad to see this post! I have two troublesome window treatment areas. The first is above the window above the kitchen sink. It's a tricky area because on one side the cabinet sits flush with the window and on the other there is about 1″ of wall showing before the cabinet starts. What to do? What to do? My other area of concern is the sliding glass doors that lead from the kitchen to the back yard. Right now, I have some boring vertical blinds. I would love to see something more stylish, but again the surrounding space is a concern as I have less than a foot of free space on either side– Yulia
Well, I was so intrigued by her comment; I decided to help her out!
These are her problem areas…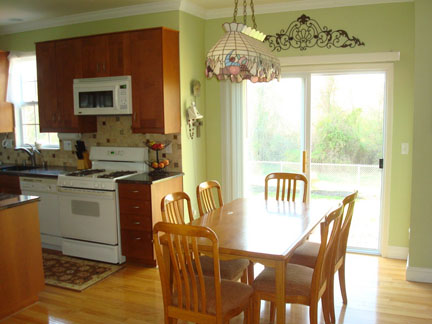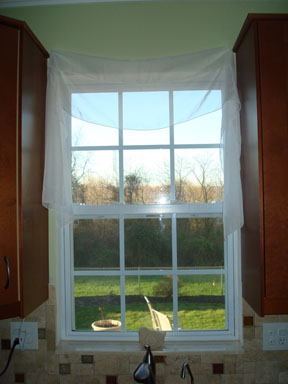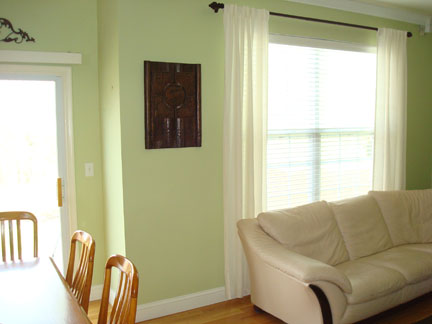 After seeing her photos I understood her design dilemma and I whipped up a design board giving her some options based on our conversations about style, etc. Check it out.
Here's the breakdown:
Kitchen Window:
 For the kitchen window I would go with some simple and tailored (see 4 options below).
1. This option works well because the shape is extremely tailored (making it more modern, which unifies blends well with your kitchen) and the darker shade will create a classy look. Click here to see/purchase.
2. This option is a bit more formal. The silk really sparkles in the light and will give shape will give a softer look to the space. Click here to see/ purchase.  
3. This option is also formal and pulls in color to enhance the overall brightness of the space. The shape beading the details the valance will create interest and instant style. Click here to see/purchase.
4. This option is really eye catching. The varied striped look will add a perfect finishing touch and can help unify some of the shades in your granite and backsplash. They come in a variety of colors, however, I recommend the chocolate or the oil green color way. Click here to see/purchase.
 Living Room Windows:
 5. This option gives off the look of silk with a much better price! They are accented with grommets and are machine washable! Click here to see/purchase.
6. This option will give you're your space a modern and updated feel. Horizontal stripes are a big trend these days and the really enhance a space with drama and give off a tailored look. I recommend the mocha multi color way. Click here to see/purchase.
7. This option, like the above, enhances your space and adds a touch of boldness. Horizontal stripes can instantly add style and interest to your room! I recommend the Desert Khaki Multi color way. Click here to see /purchase.
8. This option is more subtle and the look will be more casual & breezy. The panels are machine washable & I recommend the Flax/ Mushroom color way. Click here to see/purchase.
9. This option is a little more Urban & Masculine, but the over look will be so dramatic and clean lined. I recommend the Almond or Chocolate color way. Click here to see/purchase.
10. This option is a faux silk and will you're your room a sophisticated look. I would recommend the gold, chocolate or cappuccino color way. Click here to see/purchase.
* The living room panels should be hung on sturdy, thick drapery rods for better function.
 **Please note: I gave her so many recommendations since she said she may or may not change her paint color in these adjoining rooms (kitchen & living).
Are you looking for help for your interior? Visit "our shoppe" to purchase your very own design package (we are having a sale today, May 18, 2010 through Saturday, May 22, 2010 with the code: Story Began the packages are 30% off). Or if you are looking for a quick answer for your design dilemma, just email us @ lindsay@adesignstory.com.