Happy August! I am posting today from the Haven Conference. I am so excited!! My husband and I decided that it would be beneficial for me to come to the conference and we secured my ticket when they were up for grabs the first day! I can't believe it's actually time!
So many exciting things are happening… the website re-design is almost ready, we are in Atlanta for this fab conference with so many other wonderful bloggers, we are in the midst of making a huge announcement and I am so thrilled and excited about it all. Now… here's a quick update on Haven… I have the BEST husband in the world who decided to drive me to Atlanta for support during the conference! He also decided we would make a fun vacation trip out of it… so we are headed to Destin Beach, Florida after this! I am so very excited. We'll miss our precious fur babies, but thank goodness for family who is house-sitting and pet-sitting for us! As far Haven, I will show you the outfits I picked out, the blog classes I take and all of the fun stuff I get to join in on. One fun thing I am excited about is the fact that I was chosen for the Ballard Design Bookcase challenge! I can't wait! I will tell you all more soon… when I know it (being a blog conference newbie, I still have no clue what to expect)!
Now for some fresh picks… here are this month's favorites…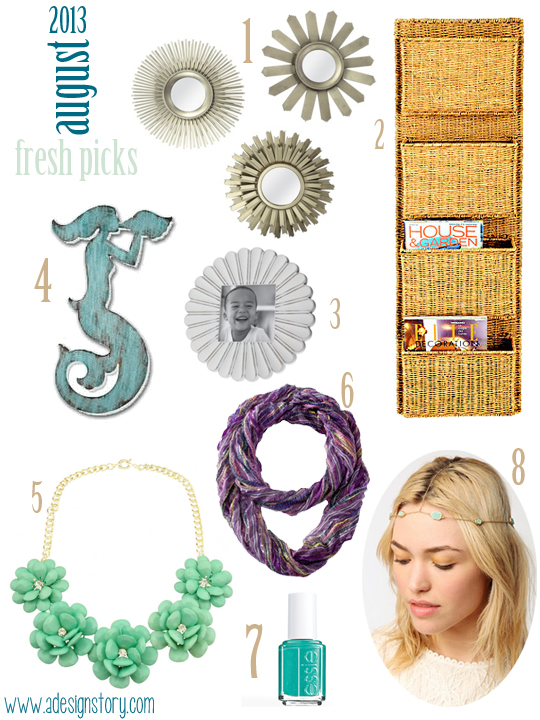 Here's the details…
1 Sunburst Mirrors: I absolutely love sunbursts mirrors for a few different design styles. I picked these up at Target for a quick gallery wall update. I haven't hung them up yet… but more new on that soon.
2 Wicker Mail Sorter: Laundry rooms/mudrooms seem to be the drop off for paper clutter and mail. I would love to add a place in our laundry room to organize the clutter and create a space for outgoing mail, incoming and coupons.
3 White Picture Frame: I love this frame. My mom and I went shopping for art and decor for my grandparents nursing home room to make it feel more homey. I will show you those details soon! I picked up this frame to add it to the collection of art and frames for the entry area. I am still thinking I need to go back and pick one up for our house too!
4 Wooden Mermaid Art: I have a thing for mermaids lately. I don't know what it is, I just m totally obsessed. I have picked up a few fun mermaid finds this summer on vacations and I found an additional piece this weekend. Saturday, Kevin and I went down to Punta Gorda to visit my in-laws at their 2nd home on the water. We had the best day. We went shopping at a local fisherman's village that had the cutest shops and boutiques. I spotted a sea-foam green wooden mermaid hanging on the wall in a shop and went for the purchase. (It's similar to the one above.) In fact, my mother-in-law even treated me to a new summer scarf and necklace just because. So sweet! I plan to hang the mermaid in a fun place…. details coming soon!
5 Flower Necklace: I am obsessed with a new site called Accessory Concierge. I actually found them on Facebook before they launched their website. Basically, they have sales on Mondays and Wednesdays on jewelry right on their Facebook. You say "sold" under the photo of the jewelry piece you want and moments later they send you an invoice through Facebook. You have 24 hours to pay for it and it comes like 2 days later I have ordered 2 pieces so far, including the one above and I am in love. They look great! In fact, I am wearing the flowered necklace with an outfit at the conference!
6 Purple Scarf: It's no secret that I love a fun infinity scarf. I wear them with shorts, and maxi skirts and skinny jeans. I just purchased this one from Target to wear with a fun pair of purple skinny jeans and a white lace peplum shirt. Adorable!
7 Teal Essie Nail Polish: I just painted my toes Naughty Nautical for the conference. It's such a fresh and fun color for the summer. Don't ya think?!
8 Goddess Chain Head-wrap: Adorable… simply adorable. I am in love with this head-wrap. This has been on my wishlist for the entire summer. I better buy it before it is sold out… again. I think this would look great with a green maxi dress or skinny jeans and gold sandals.
So… what about you guys… what are you loving this month? Share… please do!