Hi… Happy Friday!! I have been a little under the weather this week (again)… silly sinus/allergies.. hence the lack of blog posts. All is well, hey, who knew watching Million Dollar Listing for hours could be so fun 😉 Although I do like watching tv, I would so much rather have been out & about enjoying the sun, painting or diy'ing something…anything! (Note: The Ikea giveaway last week… yep… I am late picking the winner due to being under the weather… winner will be announced tomorrow!)
 Anyways… I had a little time on my hands… so I browsed through magazine and looked online for new clothes etc! It wasn't all in vain… it got me thinking about the huge craze these days… Color blocking… It's a HUGE trend this year. Have you noticed too? I am sure you have seen it all over the fashion world… I know that's where it first caught my eye…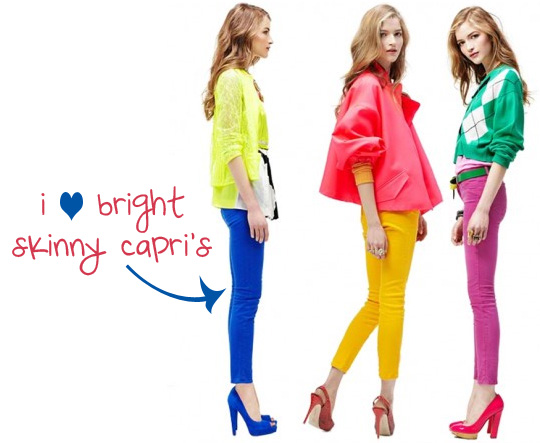 I L-O-V-E the vibrant hues & the intentional use of each shade. I started color blocking a few outfits in my own closet recently… turquoise pants with green tops, pink capri's with navy blue, cobalt capris (I mentioned here) with yellow tops… you get the idea! The colors are so happy and they make each outfit so fun to wear! Are you guys into the bright 80's wear too?
As you know, Interior design + Fashion work hand in hand. They just do… so anything you see in interior design, you can translate it into an outfit & vice versa. This fun, colorful trend is making its way into interiors in really great & easy ways! You don't have to go bold & "all-in" to incorporate a little color blocking into your space, you can start by using the "easy" approach … It's not just for the brave at heart!
Here are a few SIMPLE tips to get your space all "color blocked"…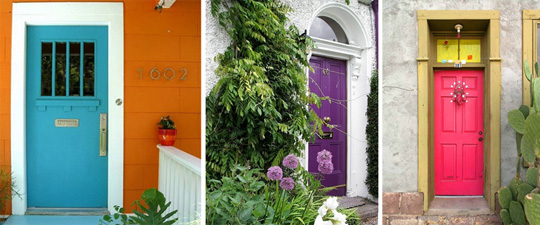 1. Take it Outside…
Paint your front door and shutters complementary colors!  Add some pots or a colorful bench in another shade  or two to spice things up!! Have a front porch or lanai? Paint the floor the same color as your door, just three shades lighter! For an extra pop of color, plant some colorful flowers near your front entry way!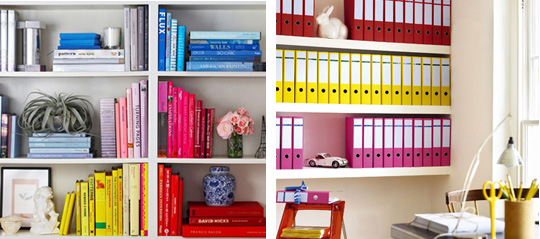 2. Organize & Color Code…
Start with what you already own! Organize your books by color & shade, as well as your accessories. This idea works great with white shelves, but will look equally as impressive on dark shelves or a coffee table. Another great idea is to color block your glass from cabinets in the kitchen/dining room, just stratigically place your brightest dishes, cups and accessories from dark to light or by color.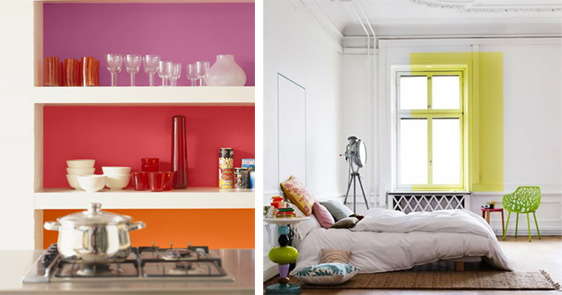 3. Paint It…
Another simple way to add color to your space is by using paint (of course)!! Try painting the back of a book case in a few shades of the same hue, or varying colors… it's an unexpected touch of pure fun! Another way to introduce color is to paint a square, an entire wall or just your doors a bright shade, then just pick up the same shade in your accessories! If you want to get really bold, try painting your upper and lower kitchen cabinets different colors, or painting adjacent walls in a small room two different colors.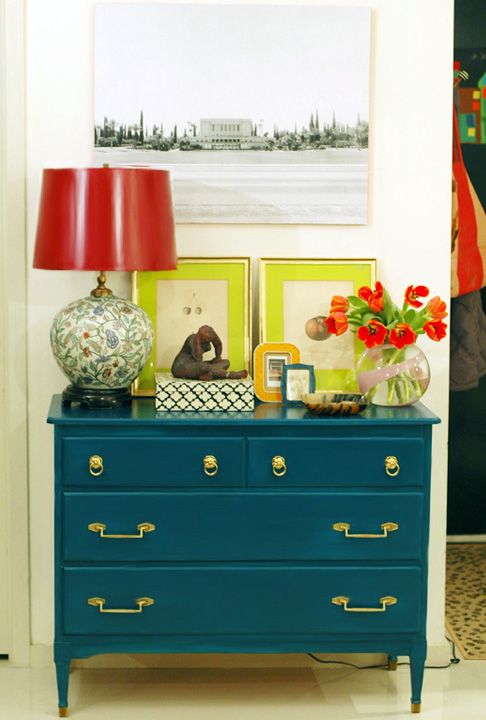 4. Pair It, Style It…
Utilize those brightly colored furniture pieces you diy'ed last year to their full potential! Pairing a turqouise table (like above, for example) with bold accessories, lamps or vases will create a fun focal point. It's all about 'enjoyment' when your styling… get creative. Color blocking is simple: pair up bold, solid blocks of color with each other!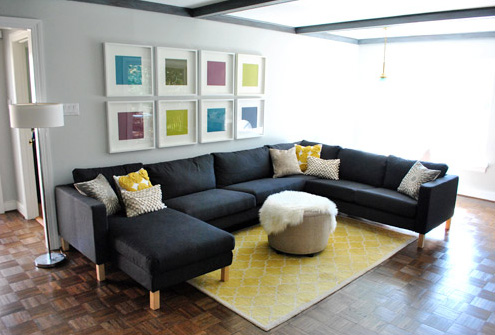 5. Accessorize It…
Add solid, bright pillows to that neutral sofa, drape the windows with new curtains and hang new art! Diy your own by taking white frames and placing brightly colored paper or paintings in them! 
Here are a few more photos I pulled for more inspiration…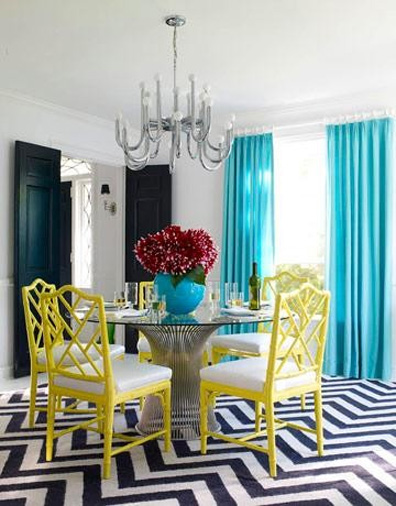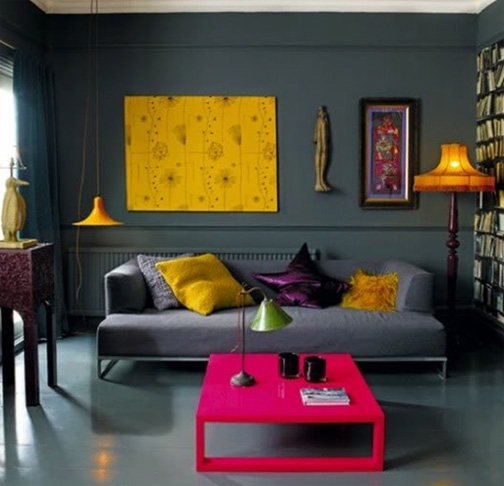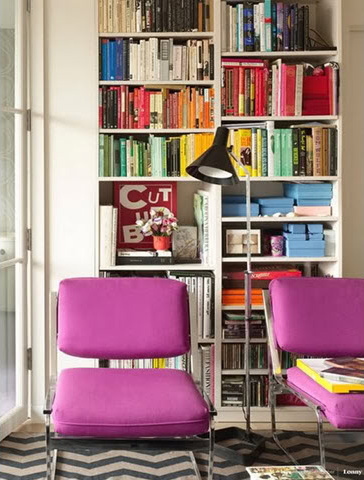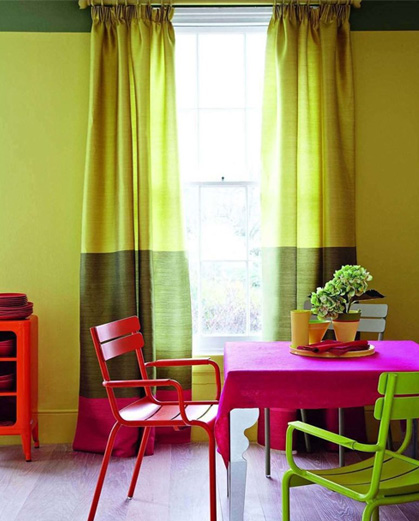 (Sources: here, here, here, here, here, here, here, here, & here)
Instead of a design board of my favorite accessories for color blocking, I decided to make a little "cheat sheet" for a blank slate…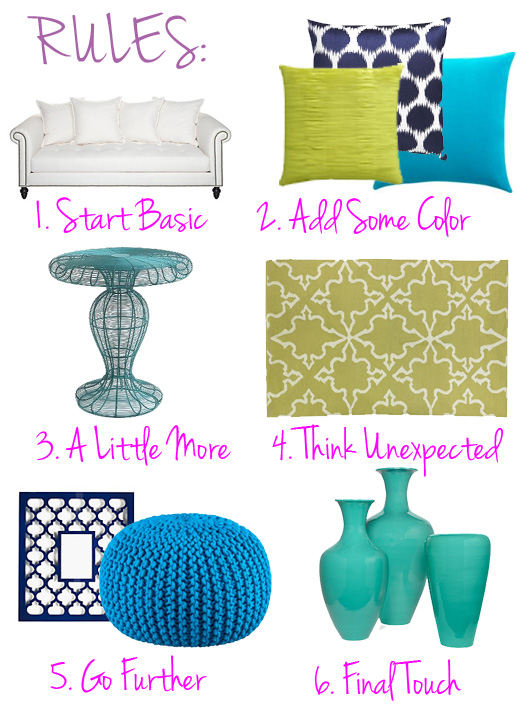 (Sources: Sofa, Green Pillow, Blue Pillow, Ikat Pillow, Side Table, Rug, Frame, Pouf, Vases)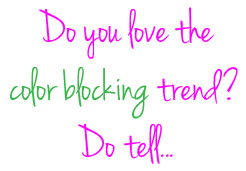 The best advice for adding color blocking into your interior is to HAVE FUN. It's all about color and playing with it! Get Bold and watch your space get bright & beautiful! I can't help being drawn to these vibrant hues… How about you?