So you are planning a Fourth of July celebration and you want to make it festive. Rather than spending a lot of money on Fourth of July decorations to place around your house or yard a greater impact is achieved by focusing on decorating one area.
A Fourth of July tablescape will provide for a festive and functional decoration for your celebration!
Here is a budget friendly, fantastic red, white and blue tablescape idea…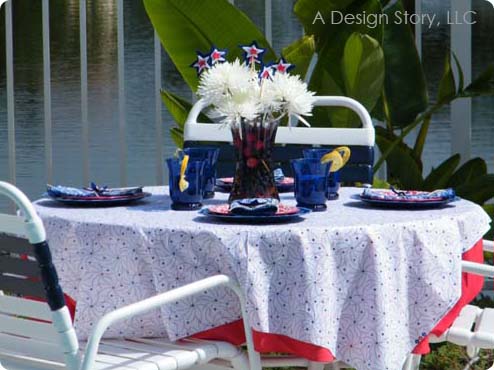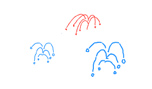 Some of the little pieces which went into this 4th of July holiday table setting are easy details that make a big splash:
Linens~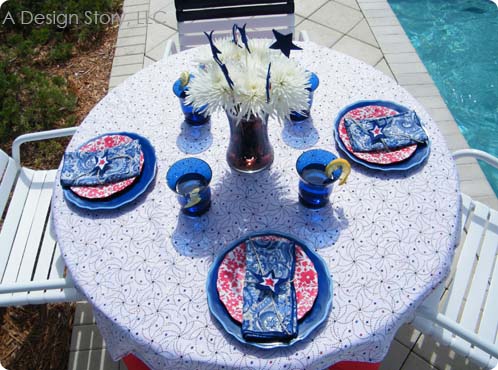 – Red Table Cloth (I picked up my linen cloth at Goodwill for $3.00)
– A Patterned Cloth Overlay (I picked up mine from Joanne Fabrics for $5.00)
– Cloth Napkins (I picked up these Paisley Patterned Napkins at Goodwill for $2.00 for the set)
Serving Ware~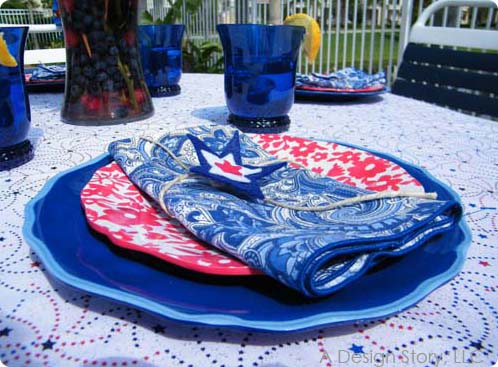 – Plastic Plates & Cups (These came from the Better Home & Gardens brand at Wal-Mart for $1.50 each)
– (You can add stemware… we didn't because we had finger foods)
– Flags or Pinwheels (each from Joanne fabrics for only $1.50)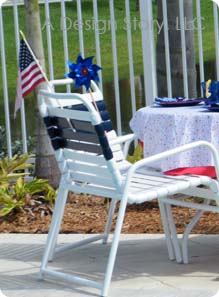 Centerpiece~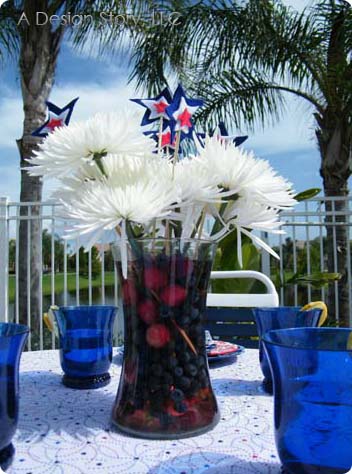 – Clear Vase (already owned it)
– Flowers (from Sam's for $5.00 a bundle)
– Blueberries (I actually used leftover right from our fridge)
– Cherries (I used these directly from the fridge too)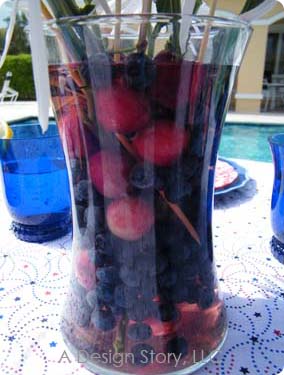 – Shish Kabob Sticks (free from our fridge)
– Red, White & Blue Felt Sheets (each from Michael's Craftstores for only .29 cents)
Here's a sneak peek at the 'star stick' process: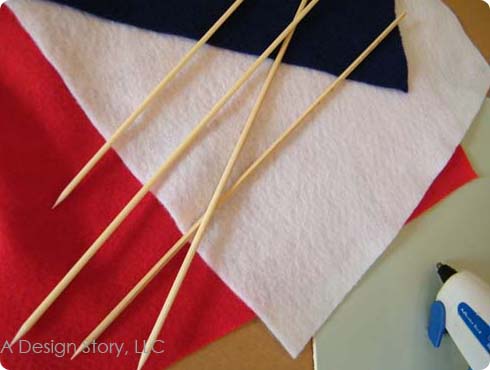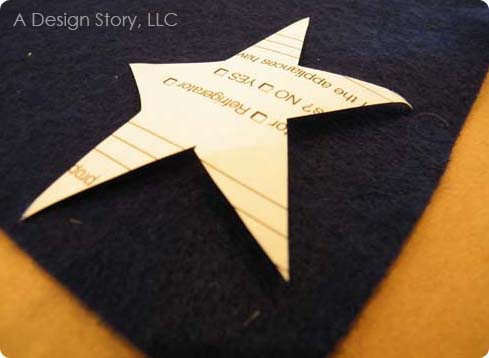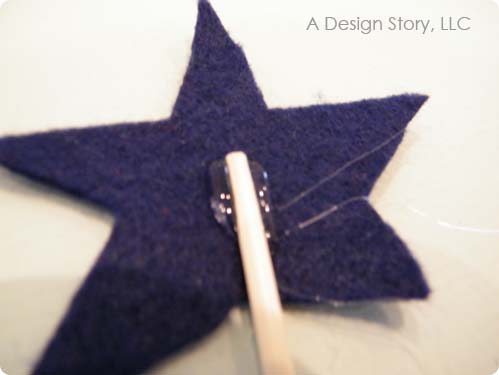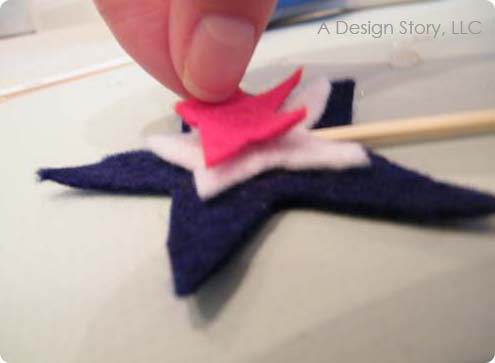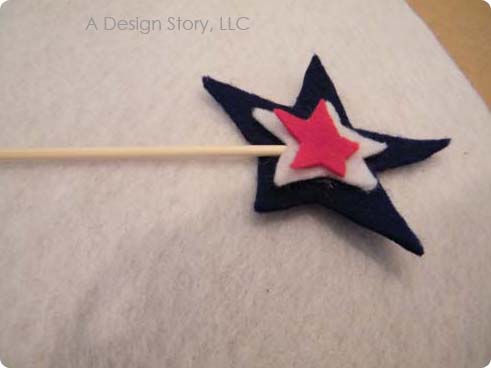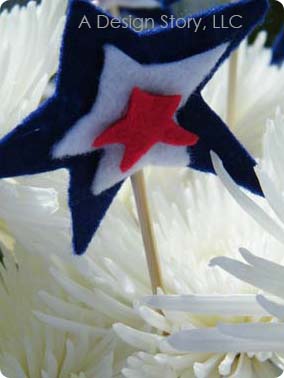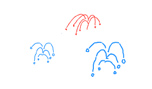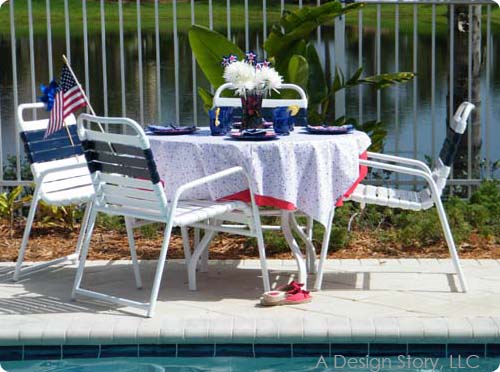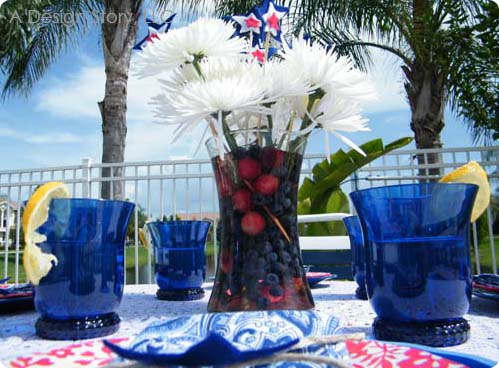 There you have it… A 4th of July tablescape for the patio table for a fun pool party, perfect for Independence Day!
I hope you love the photos of our Fourth of July tablescape and seeing the many elements broken down simply. Are you having a big bash for your friends and family? Are you sprucing up your tables or backyards? Do tell.
Happy 4th of July from A Design Story, LLC.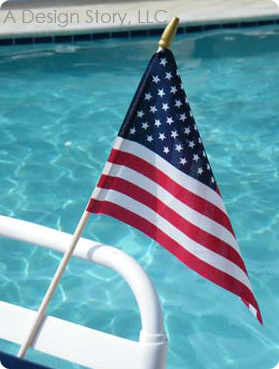 Love all things design? Us too! Check out "Our Shoppe" & get your very own design package @ 40% off with the Coupon Code: Summer.
All photos courtesy of A Design Story, LLC.
This post was shared with Centsational Girl
& the C.S.I Project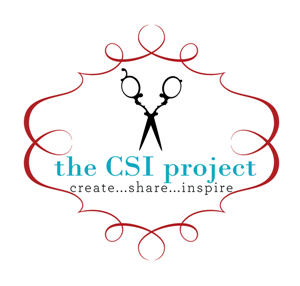 Love red, white and blue, well anchors away… sail into summer