On a Roll…
Tea carts that move from room to outdoor room serve up style with ease.
 Having summer barbeques and parties? Having the lemonade, cups, flatware and platters of foods all within easy reach can be a relief so you aren't trying to balance a tray while setting it on the table, or making multiple trips in and out of the kitchen for different foods.
These tea cart styles add beauty and functionality! If you go with an ornate style, it can add a traditonal flair to the spacem  just as simple, plain designs let your dishes and linens take center stage. Each has its own place.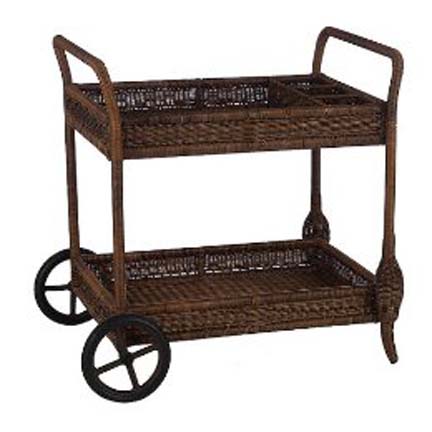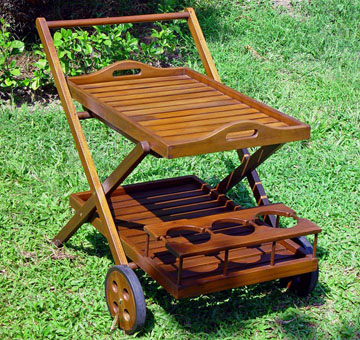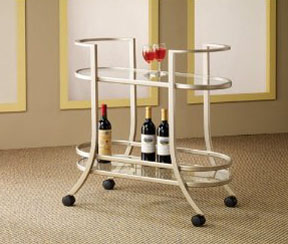 Tips for Choosing a New or Antique Tea Cart
When looking for a tea cart, (see items below), take into consideration where you will be using it most often. Will it be for an outdoor function in the garden or on the patio? Larger wheels will make it easier going across uneven sidewalks or the lawn.
Will you generally use it indoors? Daintier more artistic pieces will be an added bonus especially when not in use ~ you can have it as a piece of furniture for display. Smaller wheels will work fine in most cases.
Think of the dishes and trimmings you will be using. Will all your trays and platters fit? Are the shelves spaced well enough to allow for easy removal of food, serving pieces, and napkins?
Will your cart fit with your home's decor & style? Think of color schemes and overall aesthetics of the room you wish to keep it in.
Wondering where to put your cart when not in use? Leave it in the corner of your dining room or living room to showcase first of all the piece itself, but also some cherished teapots, your fine silver, or unique items that are usually hidden away and only appreciated or viewed on special occasions.
 So, what do you think? Will you be rolling out a tea cart for your summer parties? Any outdoor spaces been spruced up lately? Do tell. We want to see!!