Yesterday afternoon, the Mr. and I went out to purchase our new Christmas tree! Last year we had a colored pre-lit tree (which Kevin's folks blessed us with), we loved it and it adds a lot of personality to our holiday décor. Although we the cheer it brings, we decided in addition to it, we wanted to also add another tree to our home… one that is more traditional and white!
Last friday we gave you a few tips on preparing for the holidays and let you know we were putting our tree up! We had been shopping for trees since they graced the stores with their presence this year! We prefer not to go "real" in Florida because my family learned that lesson years ago when most of the needles feel off the tree before Christmas had even arrived. Not good. We perused Wal-Mart (which had good prices… just not "full" trees), Home Depot (which had nice trees) and then Lowes.
I am partial to Lowes anyways because I grew up visiting there quite often because it is my Dad's favorite store (he is a builder… what do you expect). They really have an organized holiday section and their trees are "full" and displayed nicely so you can see what you are actually getting. The other stores we visited didn't exhibit their trees well, so you just didn't know if all the branches were pulled apart if it would look nice or not. So… Lowes it was.
I had my eye on one since the holiday décor came out, but there were plenty of great options… my one rule is that the tree we got had to be "full"… you know the type where you can't see the pole in the middle!
LED Trees…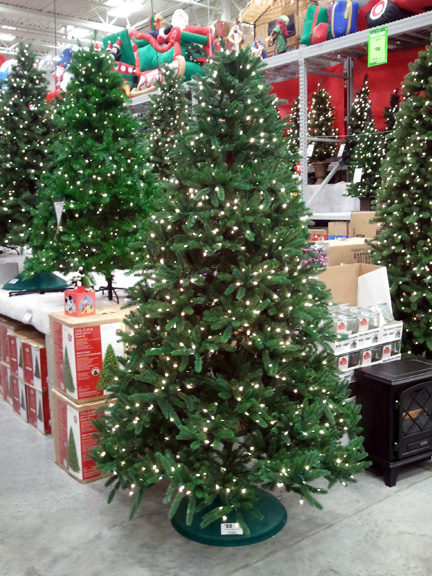 I love a white tree, I almost went with it… but I wasn't sure if it was going to be something I would "love" for a few years… and if you know Kevin at all… if you are buying something like that… you must love it for awhile!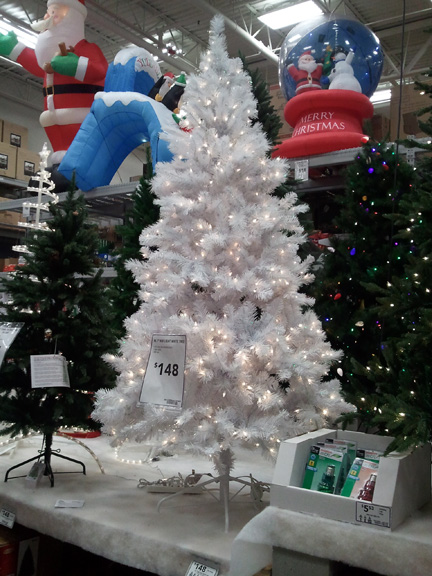 They also had smaller trees that were still quite "full"…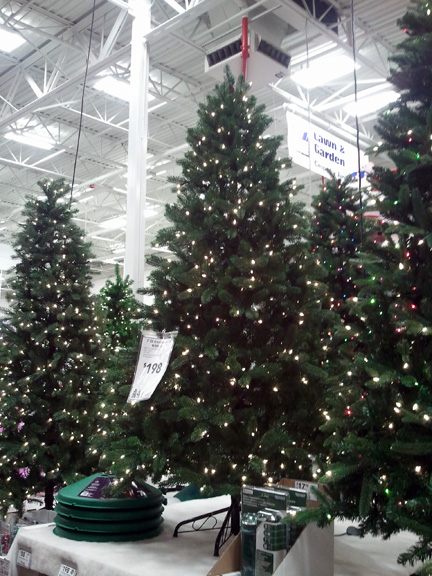 Then there was this… the beauty that I had spotted awhile back and couldn't stop thinking about. At 7.5" tall and having over 700 clear and frosted white lights, it was ours for the taking.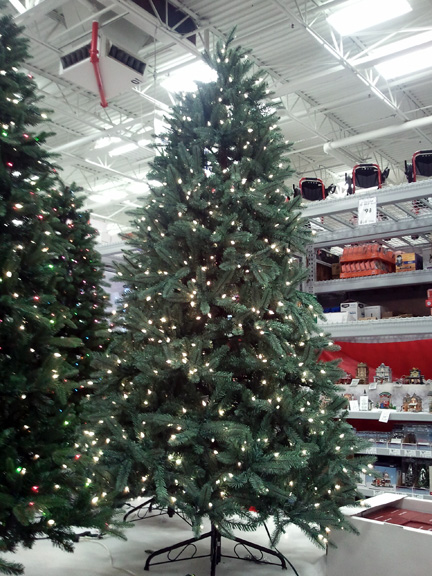 Love it too? It was only $228 (we happened to have gift cards… so that always helps).
The advantages of this Christmas Tree is…
– GE Constant On lights stay on even if a bulb becomes loose or burns out
– Realistic "Just Cut" needles look like those of a live tree
– 3-piece easy assembly (which is so great)
– 3-year limited warranty on lights
It was really easy to put together and looked stunning when it was all up and the lights were shimmering.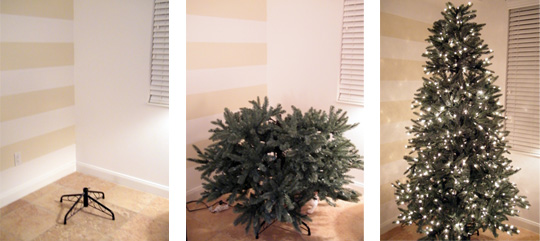 Lowes also had some really fun decor items…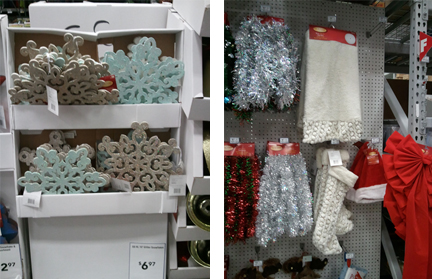 Those snow flakes are adorable and would look great hanging in the corner of a room. The ivory tree skirt and matching stocking are really beautiful and would look fabulous in a traditional setting!
What about you? Are you partial to one store or another for your holiday decor? We loved Lowes for their trees, Wal-Mart and Target have some fantastic, inexpensive ornaments and fillers, Etsy has unique, handmade ornaments and also West Elm, Crate and Barrel and CB2.
Are you decorating yet? Do tell!
P.S. Need a few tips on where to place your Christmas Tree? We gave you a few pointers here.
And speaking of holidays… want to get your product "out there" for the Christmas shoppers? Come over and sponsor a Gracious Giveaway or let us know about your product line… we might even feature it in one of our holiday shopping guides… lindsay@adesignstory.com.
Or… sponsor an advertisement during our holiday special… just click on the image below..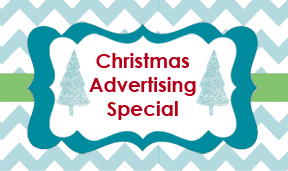 Up this week on the ol' blog:
– Side Table DIY
– Designed Story
& More… Stay Tuned!