Kevin and I occasionally ride around and look at home in our area (this is what a realtor and interior designer do for fun). We live in Sarasota, which is a beautiful area that boasts stunning water views of the bay and Gulf of Mexico. We have some of the most gorgeous homes here with exquisite curb appeal and luxurious designs. We are true believers that if your home's curb appeal makes a great first impression, everyone — including guests and potential home buyers — will want to see what's inside.
Here are some great curb appeal ideas along with ideas from local homes right here in Sarasota…
Create that perfect symmetry
Symmetry is not only pleasing to the eye; it's also the simplest element to put together. Symmetrical compositions of light fixtures and front-door accents create welcoming entryways. This door is flanked by two topiaries.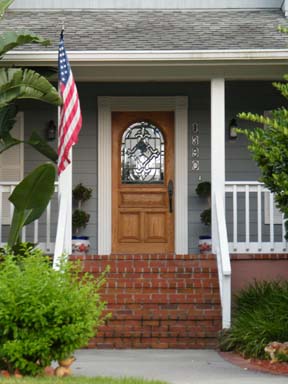 Dress up the front door
Your home's front entry is the focal point of its curb appeal. Make a statement by giving your front door a punchy color! Your entry should also reflect the home's interior, so choose a swag or a wreath that reflects your personal style or the season! I personally make my own wreaths… I like to add a personal touch to each one!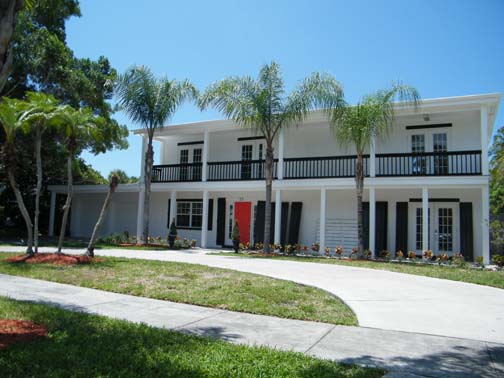 Do a mailbox/gate control makeover
Grow vines and plants near your mailbox or gate control. It hides the simple necessity with a green, more gardenesque way!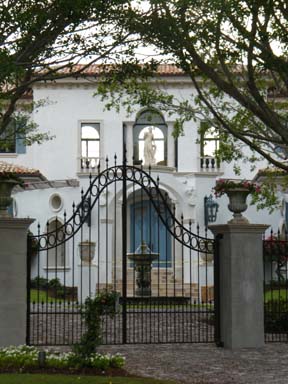 Install outdoor lighting
Exterior lighting makes a huge impact on your home's curb appeal while also providing safety and security. Make sure to keep within your homes style and size when choosing fixtures. Also, utilizing landscape lighting is a great way to enhance your home's curb appeal.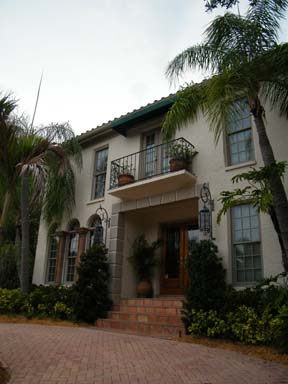 Create an instant garden
Container gardens add a welcoming feel and colorful appeal to any home exterior — quickly and affordably. Another approach would be to grow vines to an arbor, gate or even your home. It looks really looks beautiful & whimsical, while also adding depth to the look of your home!
Add outdoor art
Give your yard a little personality by adding weather-resistant artwork. Choose pieces that complement your home's natural palette and exterior elements. Birdbaths, metal cutouts, sculptures, and wind chimes are good choices for outdoor art. Water sculptures not only function as yard art, but the burbling sounds soothe and make hot days feel cooler. Place fountains in the front to enhance the entrance look and sound!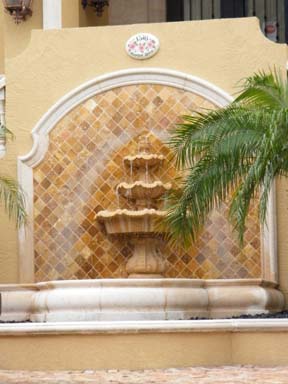 Add shutters or accent trim
Shutters and trim add a welcoming layer of beauty to your home's exterior. These aqua shutters look stunning… (This is one of my favorite homes in our town). So breezy and beautiful looking!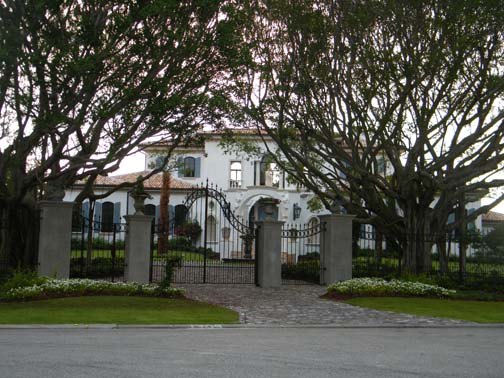 Add arbors, gates or fence panels
Arbors, garden gates, and short sections of decorative fence panels will enhance your garden and the value of your home. These amenities can be found in easy-to-build kits or prefab sections you simply connect together. For greatest results, paint or stain these items with colors already on your house. These arbors are simply stunning!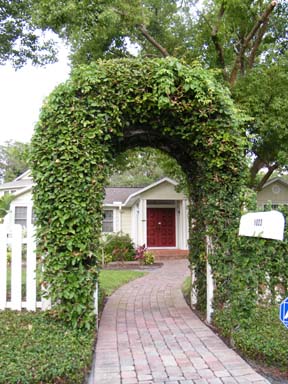 Produce a new planting bed
Add contrast and color to your home exterior with a new planting bed. Prime spots are at the front corners of the yard, along driveways or walkways, and immediately in front of the house. When creating a new bed, choose features that will frame your home rather than obscure it. Get garden beds into shape by pruning growth, tugging weeds, planting flowers, and adding new mulch to re-establish color that was taken away by rough weather and sunlight. Opt for stone or precast-concrete blocks to edge the bed. Include a mix of plant size, color, and texture for optimal results.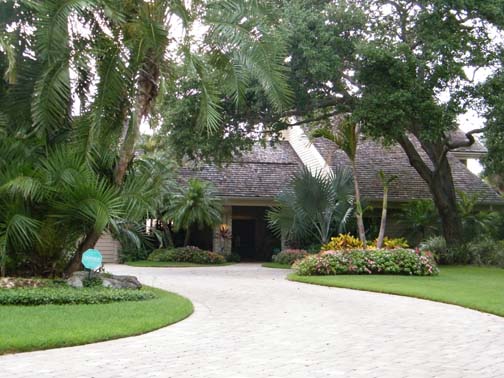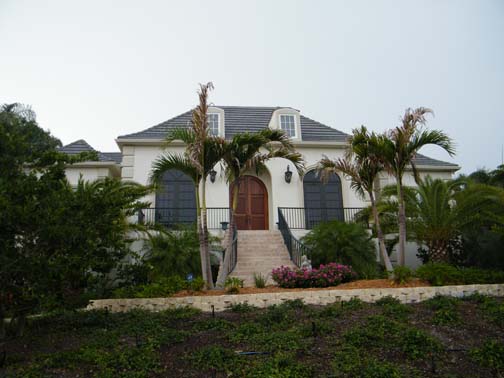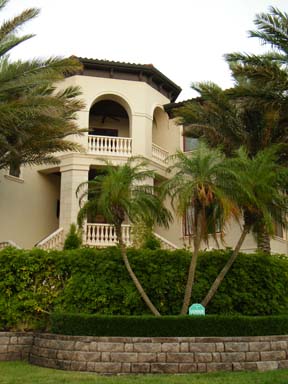 Tile your doorstep
Create a permanent welcome mat by tiling or painting a design that contrasts with the porch floor or front stoop. Not only will you not have to worry about replacing the mat when it gets ratty, but you can impress your visitors with your creativity. Should you decide to tile, make sure you select a tile that has slip resistant qualities.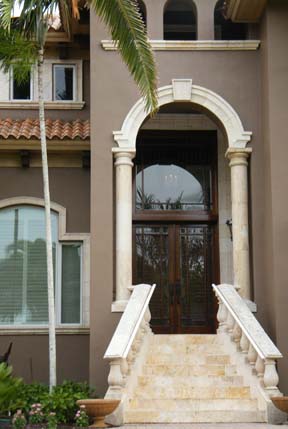 Dress up the driveway
If your driveway is cracked or stained or has plant life budding from it, you can improve it without doing a total redo. First repair the cracks and stains (and kill the weeds), then dress it up by staining the concrete or affixing flagstones. If you need more room to move your car or park, add stone, brick, or pavers to the sides of the drive to widen it with flair. Look at this driveway… classic in design!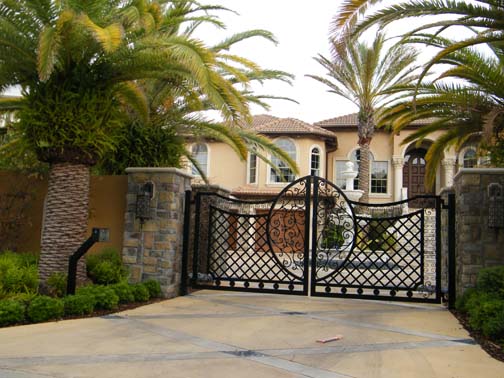 Improve railings
Porch, stoop and gate railings can weaken quickly if not treated properly. If your railings are past their prime, look for quality wood or metal components to replace the existing material. As with other improvements attached directly to the house, make sure the color, scale, design, details, and material are well-suited with your home's main style. These railing truly compliment the architectural style of the home…
Refresh paint, siding, and trim
An exterior facelift (new paint, siding, or trim details) inevitably transforms the look of a home. Constant maintenance of that exterior surface is the surest way to keep your house looking its finest. Choose a paint scheme that is pleasant and fresh looking. These two schemes have different appeals, but both have excellent color schemes for the architectural style they hold.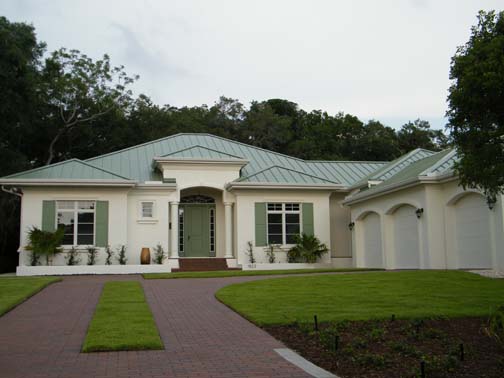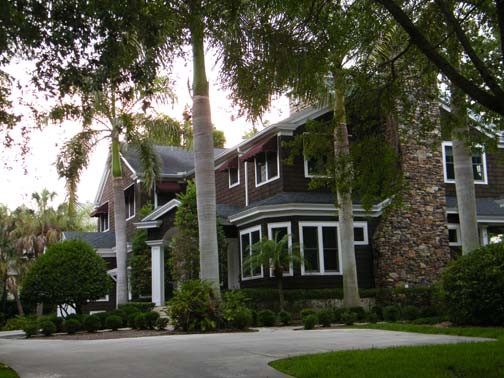 Apply stone to your exterior
Nothing carries pedigree and permanence like stone. It's a great option for dressing up exterior features such as concrete foundations, column footings, and other masonry details. Natural and manufactured stone can be costly options for large expanses, but both are affordable and well suited for use as accent material. Like this home, use it to highlight certain architectural areas on the façade.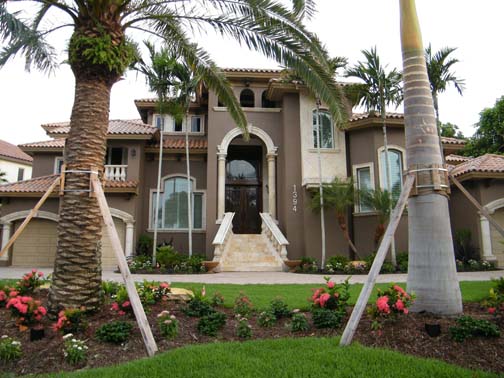 So, what about you? Have any projects going on this weekend to spruce up your home's curb appeal? Do tell.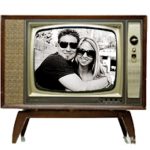 Don't forget tp ask all of your design and realestate questions… we will answer any and all on Webisode Wednesdays… (click here and here).
P.S. Woo to the Hoo… It's summer… oh yeah… and we are having a big sale on our online design packages… 40% off of every single package with the Coupon Code: Summer. Go and check it out!
Like our blog? Subsribe here. Facebook user… fan us here. Twitter tweeter… here.
All photos courtesy of A Design Story, LLC.