I am so excited to show you all our beachy foyer! Our home was super outdated and begged for some love and attention when we purchased it. We have completely remodeled our home and I am so excited to show you the beachy design!
I can see past ugly because it's been engrained in my since my childhood! All of the men in my family are in the home remodeling, construction and building industry. Fast forward to my interior design degree coupled with marrying a top real estate agent in our area, it's safe to say that design is encompassed in every facet of our lives. We have had the pleasure of re-doing our previous home and other rehab projects in our area. When we bought this home, we were coming off of another home falling through, so we were eager and ready to make the purchase. I plan on going room by room and sharing what we have done so far, which I am so excited about! It's been really fun to see the progress over the last 2 years and I am thrilled to be blogging about it.
This post contains affiliate links.
Here is the is a photo of what the foyer looked like the day we purchased our home.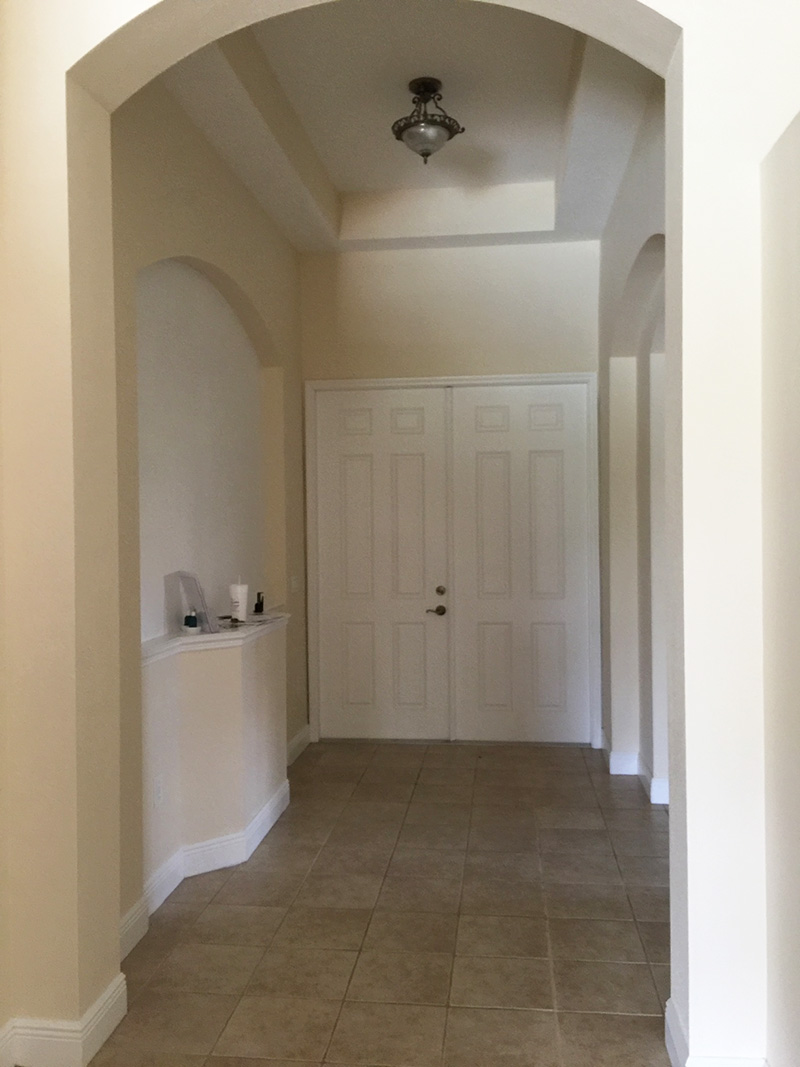 Here are the after photos of our beachy foyer…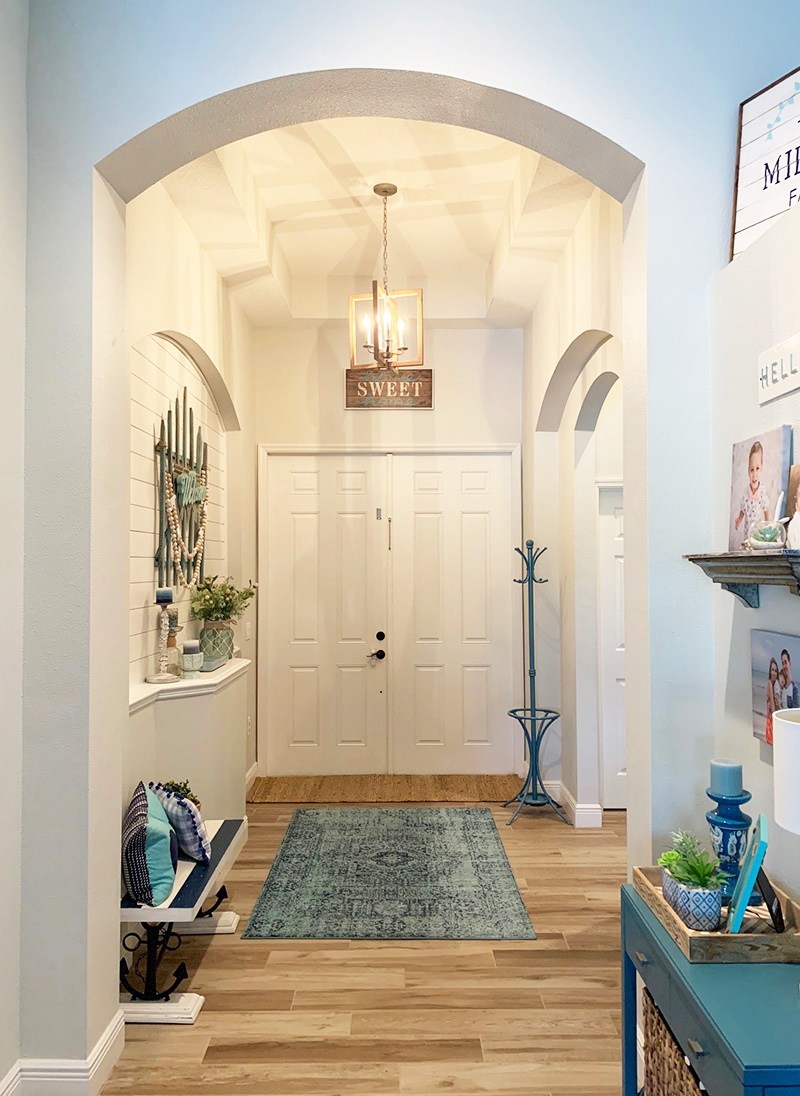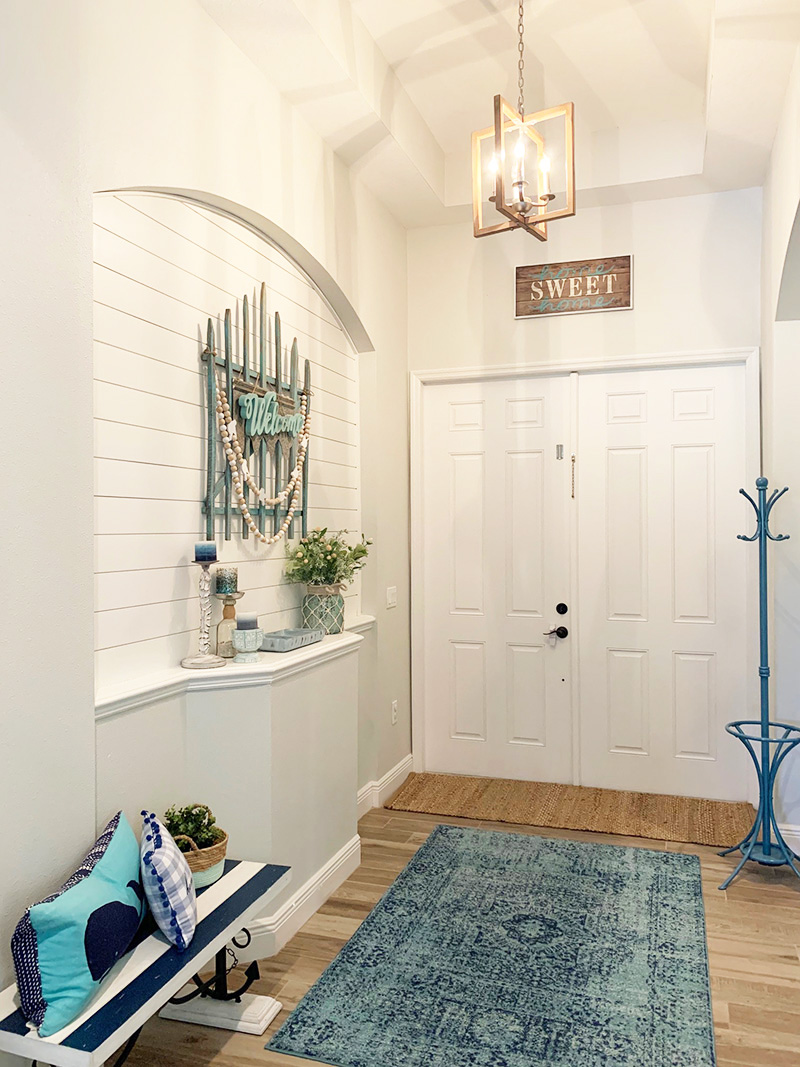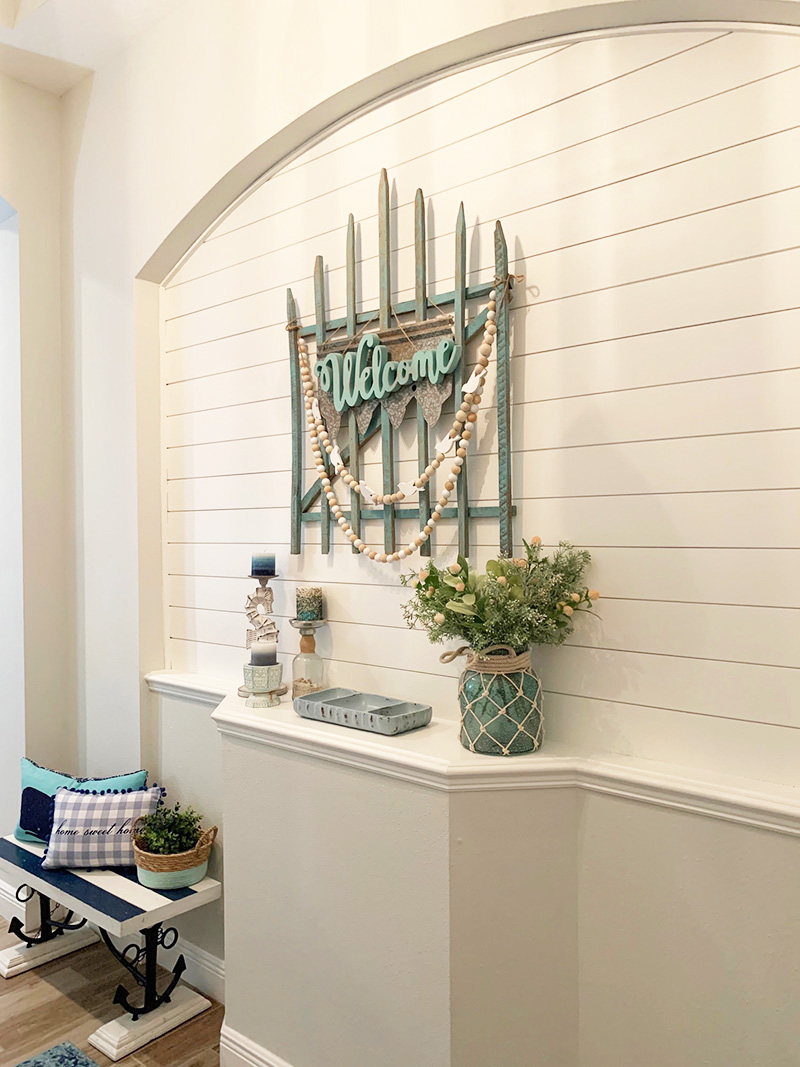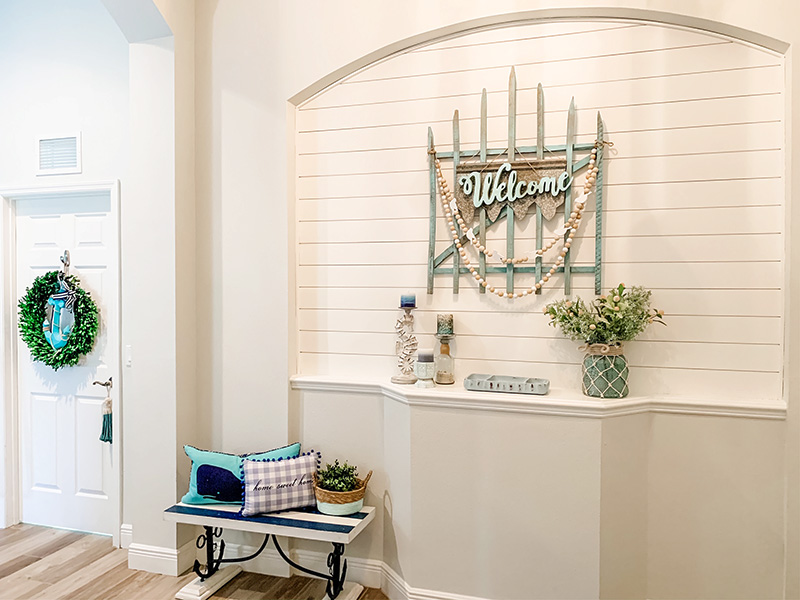 Links + Details:
Paint Color: Seagull Gray by Behr
Shiplap: Pure White by Sherwin Williams, Shiplap boards from Home Depot
Bench: Bealls Outlet
Area Rug: Wayfair
Jute Entry Rug: Homegoods
Coat Rack: Had for years from Target
Entry Light: Wayfair Daugherty 4 – Light Lantern Rectangle Chandelier
Pillows: Target & Homegoods
Basket + Greenery: Target
Fence Wall Décor: The Fancy Flea Vintage Fair
Welcome Sign: Michaels Crafts
Wooden Beads: Joann Fabrics
Tray: Diy paint project from a Vintage Store
Candlesticks: Homegoods + Vintage Store
Glass Rope Vase: Bealls Outlet
Greenery in Vase: Micahels + Target
Home Sweet Home Sign: Hobby Lobby (I painted frame)
Want to see more pics and home happenings? Follow me on insta!
What do you think? We are pretty excited about it! Let me know if you have any questions are want any additional details! You can check out our previous home here.  If you are in the mood to do some reading, check out a few recent posts.. my top 7 makeup faves, blue and white porcelain trend and April Fresh Picks!